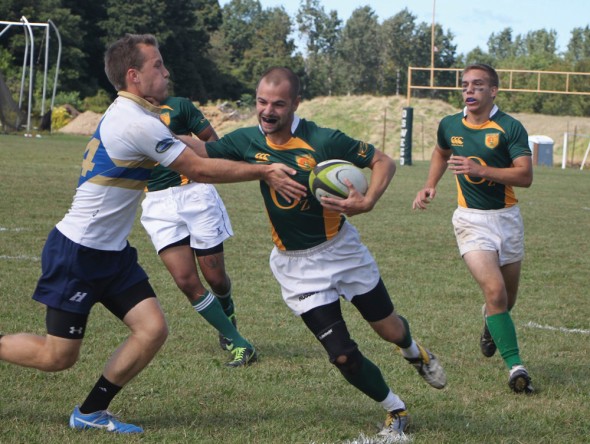 Nick Holz has a simplistic approach he brings to the rugby pitch as a captain—he focuses on the fundamentals of the game and works on the little things.
Holz feels minor mistakes are what hold a team back, so if the Lakers can fix what is tripping them up then they will be a "hundred times better team."
Improving upon the fundamentals starts with the effort a player puts in, and Holz, a South Glens Falls native, believes the Wizards have the desire to get better and make a run.
"I just tried to lead by example. If I'm working hard I expect everyone else to do the same," Holz said. "I'm 100 percent confident with our team. Our team's motivated enough to get back to where we need to be."
With last season's loss to Colgate still present in his memory, Holz is focused this season on not only getting back to the state championship, but also taking the state crown in 2013 and trying to go as far as possible in the postseason.
As an end wing, Holz is a large part of Oswego State's offense. But in his mind, the wings and backs need to shore up their play on the other side of the ball in order to help the squad improve.
"We've just got work defensively. Offensively, we kind of take care of ourselves," Holz said. "Defensively we've got to learn how to shift so we don't get overloaded, make sure we've got the field covered."
The senior wellness management major thinks solid tackling is another crucial part of the wings upping their play on defense. If the Wizards are going to be successful, the tackles have to be low and players have to avoid arm tackles because "the good teams will just blow through."
Holz believes his expanded knowledge of the game has been his biggest form of growth over the years and has been key in becoming a better player.
"That's two-thirds of the battle," Holz said. "The more you know, the easier the game is."
Holz's fellow captain, senior Tyrell Moore, started with the Wizards at the same time and has seen the growth of his teammate over the past four years.
"We had a goal of both becoming captains of this team," Moore said. "His skills really progressed, as in just his field awareness, his tackling and the way he can talk about the game and help the other players on the field."
Holz's knowledge of the game has also helped, as he and Moore work to improve Oswego State's play.
"He sees things on the field that, if I don't see it, he'll definitely see it and we can converse and talk about it and make adjustments to our game," Moore said.
Holz attributes most of his accumulated knowledge to his head coach, Jim Clarke, saying "he's taught me pretty much all I know about rugby."
Coming into the program, Holz feels his high school athletic experiences were an asset. Holz ran track and played point guard for South High.
He said his time running track improved his fitness, speed and endurance, while his time as a point guard provided experience on how to make passes, see lanes and be aware on the playing field.
When he leaves the Wizards at the end of this season, Holz wants to be remembered for the amount of effort he put in, as well as a great team supporter.
"[I] just try to be one of the best leaders I can be," Holz said. "When someone needs help, I'm always there trying to help them. I don't care if you're a rookie first day or a vet."
Coming off a loss at Colgate this past weekend, Holz and the Wizards (4-1) are now headed to SUNY Plattsburgh as the regular season starts to wind down. Including this weekend, Oswego State has four matches remaining before postseason play begins.