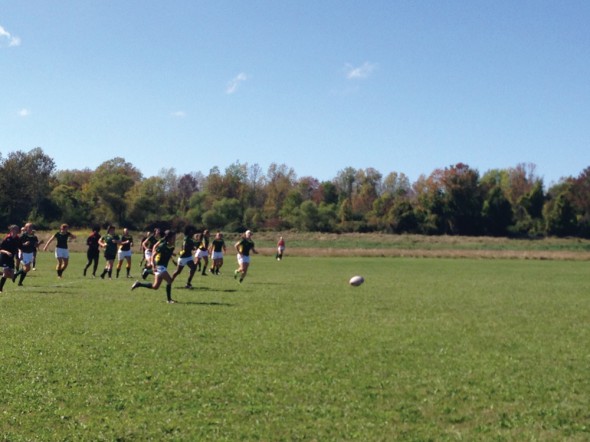 The Oswego State women's club rugby defeated SUNY Plattsburgh in a blowout 35-9 win on Saturday.
Senior captains Leah Sweeney and Elizabeth Arnone were thrilled with the victory, which Arnone says was "four years in the making."
The Black Widows used passing and teamwork to help break down the tough Plattsburgh defense.
"Everyone wanted their teammate to score," Arnone said of the team's selfless play on offense.
Oswego State managed to control the time of possession and keep the ball in Plattsburgh territory.  Its ball movement wore down the defense and provided opportunity for big plays later in the game.
Sweeney and Arnone believe the team played well, but could still improve on the defensive end. Even though the Black Widows only allowed nine points, Arnone said the team needs to be more aggressive.
"We need to go after them and make the first step," she said. "We can't just wait for them to come to us."
Oswego State also relied on its reserves to close out the game, which Arnone and Sweeney said was not a problem because of the team's depth.
"This is the biggest team we have ever had," Arnone said.
"We have around 20 new girls and eleven vets on the team," Sweeney said.
The captains said that the team executed the game plan well, which helped lead to the victory.
They also said that good execution shows that the team understands the game, which makes it easier to teach the new players the intricate aspects of the complicated sport.
Arnone and Sweeney felt that the magnitude of the rivalry game helped motivate the team during the week of practice leading up to Saturday.
"You have to instill them with confidence when they do something well," Sweeney said.
Despite the victory, the Black Widows know they need to put this one behind them and focus on their next opponent.
"We can't get cocky, we must look at each game, break it down and fix the mistakes," Arnone said. "When we find the mistakes, the girls see them and understand what they did wrong."
The Black Widows stand at 2-0 on the season after winning their first games against Potsdam (17-10) and Plattsburgh.
The team is hoping to extend its winning streak to three games when it takes on Union College at the Hidden Fields at 1 p.m. Saturday.