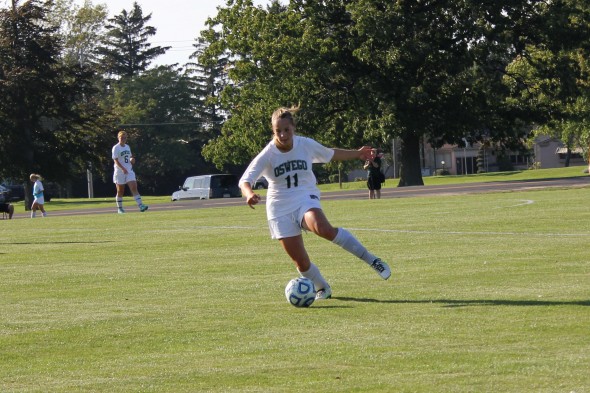 The Oswego State women's soccer team improved to 5-2 on the season after a close, yet convincing, 1-0 victory at home Friday evening against D'Youville College.
The win at Laker Field improves Oswego State's home record to 3-0, as the team has made a conscious effort to play better at home after winning only two games on their turf last season.
"We have a sign in our locker room that says, 'We don't lose at home,' and that really inspires us," junior midfielder Tia Segretto said.
Segretto scored the game's lone goal just over 20 minutes into the first half, as the Lakers put on yet another dominant performance, outshooting the visiting Spartans 23-3.
For the third straight game, Oswego State had almost exclusive possession of the ball, spending most of the game in the Spartans' zone.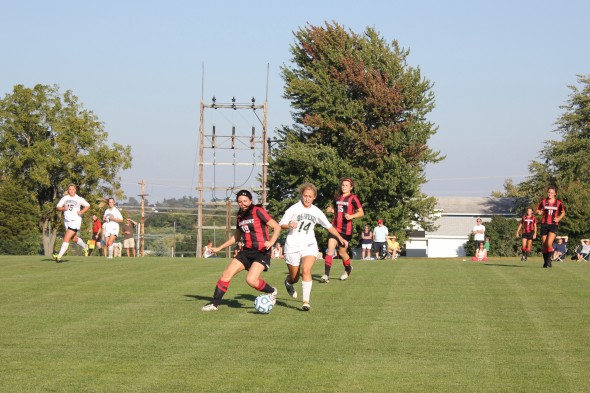 "I thought our pressure was good," head coach Brain McGrane said. "We didn't allow any space, which helps when you're in your attacking third."
That pressure led to Segretto's goal in the 22nd minute. Junior midfielder Bri Dolan sent a ball into the 18-yard-box, where Segretto was able to get on the end of it.
"I saw [the ball] coming up," Segretto said. "I settled it really fast, saw the goalie and slid."
The goal was Segretto's fourth of the season, which is the second highest total on the team behind senior Nikki Liadka, who has eight.
Segretto was voted SUNYAC offensive player of the week for her clutch performances against D'Youville and Alfred State College. She recorded five points – two goals and an assist – in those two games.
The Lakers needed Segretto's offensive output on Friday, with top scorer Nikki Liadka feeling under the weather.
"She has a cold," McGrane said of Liadka. "We tried to limit her movement up top in the first half. You could tell she couldn't really breathe."
Liadka's only scoring opportunity came in the 62nd minute when she forced a save out of Spartan goalkeeper Christina Ventresca on a shot from the top of the 18-yard-box. Liadka was substituted off the field eight minutes after the scoring attempt.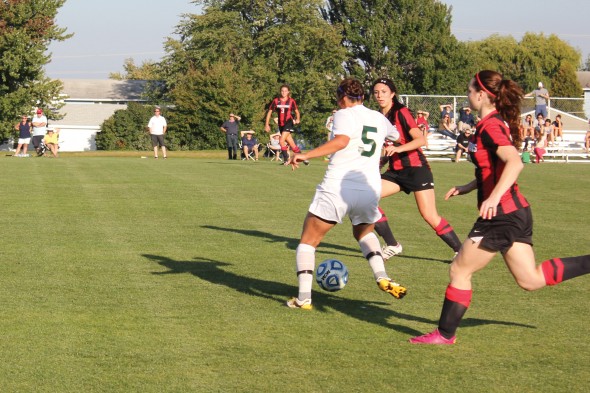 In the last three games, the Lakers have outshot opposing teams 71-17. McGrane believes the lopsided shot totals and possession percentages can be credited to great communication and execution on the field.
"The game is simple when you can find open players," McGrane said. "When you make a pass, you always pass on communication as well. That's something we've been preaching in practice."
Three of Oswego State's five wins have come via shutout, due in part, to the great play of the Laker goalkeepers. McGrane has split time in net between senior Emily Varonier and sophomore Alyssa Glasshagel.
Varonier, who started the season injured, has only allowed one goal in the three games she has played in this season. McGrane said he does not yet know who will become the number one goalkeeper.
"We feel confident with both of them," McGrane said. "Until we figure out who we're definitely going to start, we'll continue to split time."
Oswego State's young back four continued their run of solid play on defense and helped keep the ball out of the Laker zone, as well.
"They're doing really well," McGrane said. "When you start three freshmen and three out of your five wins are shutouts, you'll take it."
However, McGrane noted that there was room for improvement.
"I'd like us to be a little more aggressive in our one-on-one defending," he said.
The Lakers continued their annual tradition of dominating D'Youville. They are 5-0 all-time against the Spartans, outscoring them 27-3.
Last year, Liadka scored a hat trick during a 4-1 routing of the Spartans. In 2009 and 2010, the Lakers won by scores of 10-0 and 8-1, respectively over D'Youville.
After completing their most recent home stand undefeated, the Lakers will travel to SUNY New Paltz (2-4-2) and Oneonta State (3-3) this weekend to start conference play.
The SUNYAC was voted the fifth toughest Division III conference in the country, but the Lakers believe they are up to the challenge.
"It's really important to maintain our level of play, no matter who we're playing," McGrane said.