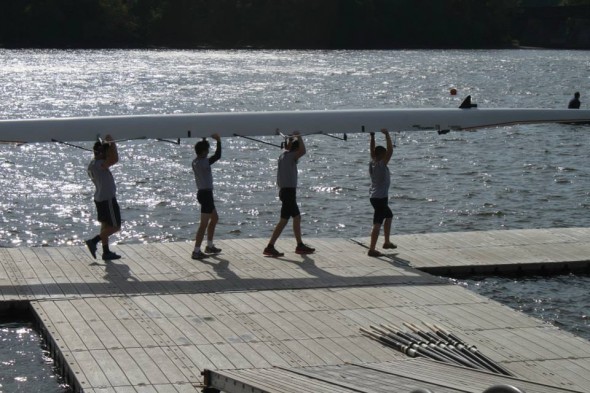 The Oswego State club crew team traveled to Albany on Sunday for the Head of the Hudson regatta, hosted by the Albany Rowing Club.
The race was shortened from three kilometers to two due to poor weather conditions, as the water heaved from a series of white caps as a result of high winds and strong currents.
The white caps prevented most racing boats from getting out onto the water at all.  The race was officially over by noon. Without Mother Nature's interference, the race would have lasted well into the afternoon. Only Oswego State the men's boat was able to get in the water before the race was called off.
When the men's boat was in the water, officers called the end of the race to a buoy 1,000 meters shorter than the end point. Teams had boats that were getting flooded by the rough water.
"The officials on the dock told rowers to pay attention to officials on the water," senior captain Eve Sandler said.
The officials stayed on coach boats and blew the whistle near the buoy to signal where the end of the race would be.
The Oswego State men's team came home with the gold that day. The win was not as difficult as it could have been, as no other collegiate men's team paid to put their boat on the water for this regatta.
"We go to the Head of the Hudson because it's great practice, especially for novices," junior captain Allysa Swilley said. "We didn't tell the rest of the team that we were the only college team racing because then people won't prepare or take the race as seriously."
Junior Vice President Jillian Keating believes that the regatta benefits Oswego State.
"Some teams don't see this regatta worth their time because it's so early in the season, and rowers aren't ready to race," Keating said. "Since there aren't many regattas in the central New York area, we take advantage of any regatta in the area so we can gain experience."
This regatta was the smallest event the Oswego State Crew team will compete in this semester. The team's next regatta is the Head of the Mohawk, hosted by the Aqueduct Rowing Club in Niskayuna.