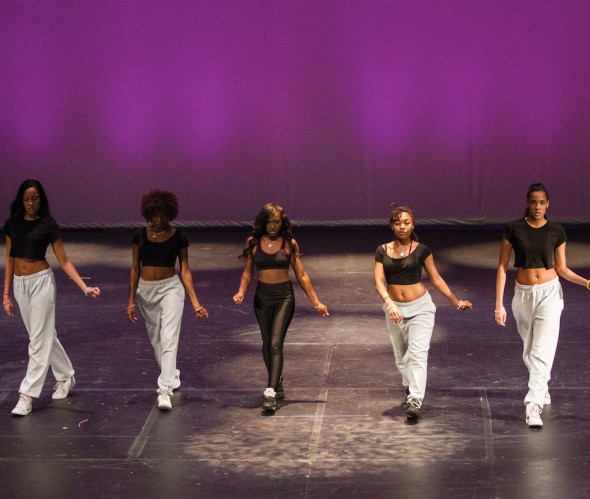 On Saturday, Sept. 21, Oswego State's ALANA (African, Latino, Asian and Native American) hosted its 27th annual fashion show in Waterman Theater.
Following a theme of "Nature's Essence," the student group, which promotes multicultural events on campus, had a spectacular show with a crowded, almost sold-out audience.
Each ALANA organization has been practicing and rehearsing their "scenes" to come up with a showcase that will entertain the crowd. The ALANA organizations that hosted the fashion show consists of the Latino Student Union, African Student Organization, Asian Student Association, Black Student Union, and the Caribbean Student Association.
Natyia Campbell, the director of entertainment for CSA, explained that with their scene they wanted to incorporate the theme of nature. "Well, at first we were going to initially do like an evolution type theme but then we thought it would be cool to just do Caribbean girl meets caveman," Campbell said.
Their scene was successful due to their use of Caribbean dance and primitive theme.
The Black Student Union focused on sending a message.
"Kanye West's song "New Slaves" inspired our scene. We heard the song "New Slaves" and we knew that [its message] is something we need to bring to the attention of the campus," said Ashley Freeze, director of marketing for the Black Student Union. "We are new slaves to fashion and we put in such emphasis on fashion, labels and designers, but what about college and higher education, and reading and becoming more educated? So we just wanted to bring [awareness] to the fact we are losing sight of what our ancestors fought for."
This year's host was Talent, a comedian who has performed for Russell Simmons 'Def Comedy Jam' and had his own show on 98.7 Kiss FM before it consolidated with 107.5 WBLS. He also invited his friend, Aldo, a comedian who has performed on Comedy Central, to rock the stage alongside him.
Talent and Aldo both expressed their excitement to be in Oswego and to perform for everyone. Talent hosted the show last year, and couldn't wait to be on the Waterman stage again.
"I'm looking for a repeat of last year multiplied by twenty," Talent said. "I had so much fun last year and it was just me performing and now this year Aldo is with me. It's a pleasure and an honor to have him here because he's so funny and hysterical. He's a weird guy and that's a compliment in the [comedy] business."
Aldo was optimistic and enthusiastic about the night's festivities. He couldn't wait to 'wow' the crowd.
"I'm happy to be here so I have to thank Talent for bringing me out here," Aldo said. "Hopefully everyone likes me and I'll be [back] next year."
Overall, the show went smoothly. It started with a faculty scene, where faculty and staff members showed support to the student body. They danced and represented their respective departments. Next, the Gospel Choir performed a spin off dance from the movie Sister Act 2: Back in the Habit. Students dressed in street attire, danced to gospel music just as the actors did in the movie. Soon after, the Asian Student Association took over the stage by performing break dancing routines. The Black Student Union's scene aimed to bring awareness to the audience by stating that being slaves to designer clothes and accessories should never be our 'nature's essence.' The African Student Organization incorporated modern dance that hyped up the crowd. Aldo then took the stage and began to entertain.
After Aldo's performance, Image Step Team graced the stage by performing modern step dance for the audience. Their scene was a crowd favorite, especially among the African American, Latino and Multicultural Greek organizations who frequently step as well. The Latino Student Union did a spin off of The Little Mermaid and paid homage to all the Latin American countries at the end of their scene. Lastly, Talent had a dance off with audience members, who competed for free DVDs and T-shirts. Students were happy with the outcome of the show and are extremely excited for next year's show, especially junior Shaka Ballantyne.
"ALANA was great. It was more than I expected. I thought that everything was really well coordinated, all the performers did a great job, and I enjoyed it," said Ballantyne.
[slideshow_deploy id='13686′]