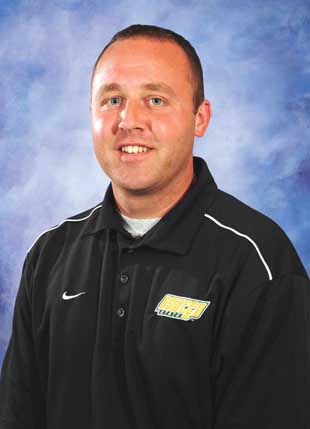 Brian McGrane is a busy man, with papers, books and other assorted documents sitting on top of his desk, yet he would not have it any other way.
"It's awesome," McGrane said, without a moment's hesitation.
McGrane is entering his seventh year of coaching women's soccer at Oswego State. He has been through both highs and lows throughout his coaching tenure, but has ultimately enjoyed his time coaching the Lakers.
He has watched five of his players receive all-conference honors on 10 different occasions and presided over an ECAC Championship in 2011, a title that was the capstone to the program's first winning season in over 10 years.
On the flip side, the Lakers have been victorious in only 14 of the 57 games they have played against conference opponents under McGrane, which translates to a .245 winning percentage.
McGrane knows that number needs to improve moving forward.
"We have not won enough games in conference to be satisfied," he said.
McGrane maintains that there is more to being a successful team than simply wins and losses.
"Off the field, our team does the right things," McGrane said. "We're active in the community, with various camps and clinics. We do a lot of Special Olympic-type projects. Our GPA is always really good."
When McGrane came to Oswego State in 2007, he was faced with the daunting task of rebuilding a program that hit rock bottom after going 1-15 the previous season,which was the team's eighth losing year in a row.
McGrane took on the challenge with open arms.
"It was tough in one sense because you know you're inheriting a team that was 1-15," McGrane said. "But on the positive side, if you win more than one game, you've done a better job than the previous year."
The new coach quickly set about changing the culture of the team. McGrane schedules practices later in the day so there will be fewer class conflicts. He also organizes fun activities, such as games off the field to build team chemistry and allow his team to have fun.
"The biggest thing for the players was that they needed to start enjoying soccer," McGrane said.
His desire to make things fun for his players has not gone unnoticed.
"Coach McGrane has put in a tremendous amount of work and passion into building the program," senior goalkeeper Emily Varonier said via email. "I think he has done an amazing job on building this program and the team and will continue to do so."
Coaching at Oswego State has been a sort of homecoming for McGrane, a Syracuse native. He has family that lives in Oswego, and he played against the Lakers as an all-American midfielder for rival SUNY Plattsburgh.
"When I was able to move close to home and be part of this program, this institution, it was a no-brainer to accept," McGrane said.
McGrane had plenty of coaching experience before arriving at Oswego State. He worked as an assistant at his alma mater as well as assisting at St. Andrew's Presbyterian College in North Carolina.
In 2006, he became the head coach of the Elmira women's soccer team. It was an experience he refers to as "interesting," though he will not go into any detail.
"There were just a lot of rules and regulations, a lot of purple," McGrane said, a reference to Elmira College's purple and gold color scheme.
McGrane was in Elmira at a barber shop when he heard that the Oswego State coaching job was his.
"I saw the 315 (area code) number come up on my phone, so I told the barber that it was important and I needed to take it," he said. "When I came back inside, I told them that it was probably my last haircut there."
McGrane has a simple philosophical approach to coaching: work hard and enjoy the opportunity.
"I want to instill a work ethic that's stronger than that of the opponents, while also maintaining the enjoyment of the game," he said. "From practices, to odyssey, to just hanging out in my office shooting the breeze, I want (my players) to feel like they can come to me and talk about anything."
McGrane has been using that philosophy for his entire tenure at Oswego State, and believes the team is finally ready to take the next step towards reaching their championship aspirations.
"This may be the best team I've had in the seven years I've worked here," McGrane said. "With this team, I'd like to compete for a SUNYAC title."