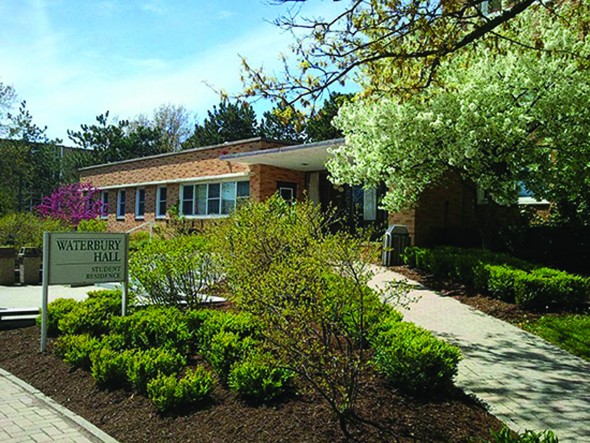 As the construction of the Shineman Center wraps up, I have to wonder what's next. My attention is immediately drawn to the two oldest lakeside dormitories, Scales and Waterbury halls. The exterior of both buildings is nothing like the glam of Johnson and Riggs, and when you walk in, it's like you're in a   different time.
The atmosphere of these buildings is extremely outdated. The hallways are narrow and cramped and every time I go through those doors I have a strong desire to cover my nose because of the foul stench that fills the air. The buildings are closed-off and dark. There is no light streaming through the windows or flyers on display. It seems more like a prison than a living community.
But besides the stench, what really concerns me are the notices that hang on the backs of the doors in Scales.  Taped and faded on the back of every bedroom door is a small white DANGER sign. It reads "PIPES IN THIS ROOM MAY CONTAIN ASBESTOS," and it goes on about how you should stay away from any pipes that are located throughout the room.
There is a danger sign on the back of my bedroom door and I'm still living here? No thank you.
I believe Scales should be on the top of the list for construction. If I lived there I would be wondering if I would be waking up each morning. And not only do both these dorms clearly lack the sophistication and hype of the beautifully designed Johnson and Riggs, but they lack elevators. Now I'm not a big fan of elevators, but what about people that are handicapped and are unable to live in these dorms because they do not have the necessary accommodations? It seems pretty unjust that two out of the four dorms on lakeside don't have elevators. Johnson houses only freshman and Waterbury and Scales possess no elevators, so that leaves only Riggs for those that are handicapped and want to live on lakeside.
This ideology also does not factor in that there are a lot of people vying for the lakeside dormitories. With only one option open for the handicapped, they have a much smaller chance of being located on lakeside.
At a respectable college, a building like Scales cannot stand. I believe that we deserve dormitories that reach a higher standard of living than they currently attain.