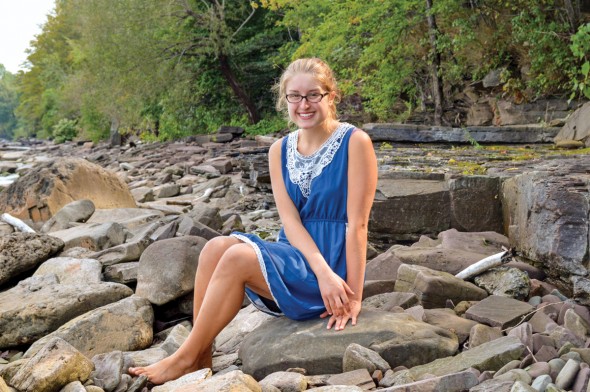 When Sarah Benson, a sophomore communications major with a theater minor, first did stand-up, she knew that it was something that she could see herself doing for the rest of her life.
The ability to meet new people and interact with them was a driving force in her decision to make comedy her new aspiration.
Benson first wanted to do stand up because, as she puts it, she "was always the weird, yet funny kid in high school."
So weird in fact that, every Christmas, Sarah said, she would hand out Christmas presents to everyone she knew, and didn't know.
Benson said that at one point she gave someone a Britney Spears autobiography, which Benson later found in her room.
There was also a hint at the fact that Benson wanted to do comedy. Sarah said she put funny greetings on the notes. For instance, with the autobiography, Benson wrote, "I hope your Christmas is better than her kid's will be."
Benson, who is a resident assistant in Cayuga and a lifeguard during the summer, knows that comedy is something that she plans on pursuing after college, unless, she jokingly says, she "finds a real goal."
She said her comedy can be described as "very clean."
"I like to tell jokes that you have to think about a little bit," Benson said.
She also enjoys telling jokes that involve history. Her favorite joke to tell, one about the Cuban Missile Crisis, involves her sitting in a bathroom stall and having a standoff with a person outside of it. "Like "Kennedy," she says, "I stay in the stall for thirteen days."
This summer has been an exciting one for Benson. Through hard work and determination, Benson has been able to help her future career skyrocket. Drawing inspiration from comedians such as Mitch Hedberg, Chris Farley, Sarah Silverman and Amy Poelher, Benson has opened up for comedians like Jay Black, Jeremy Essig, and earlier this semester, Michael Dean Ester.
Benson has gotten similar advice from each of them.
"To watch your back, everyone is only interested in themselves," Benson said. "Kind of depressing."
Benson participated in the "Funniest Person In Rochester," and, out of the 140 contestants, Benson made it to the top twelve. While Benson says she "bombed" the final round, her accomplishment is outstanding nonetheless.
Benson participates in Lifestyle's Open Mic Nights, every Thursday. Given that the open mic nights are mostly filled with singers, it can be difficult for a comedian like Benson to participate. Benson said she tries to take it all in stride.
"If you have good stage presence, you can get some people to pay attention to you," she                  said. "Sometimes."
Benson is also a member of the Shaun Cassidy Fan Club, a comedy troupe on campus that does weekly shows in the Campus Center auditorium at 8 p.m. every Saturday.
For more of Sarah's comedy, follow her on Twitter at @sarahmbenson or on Youtube                                at Sarahbenson.