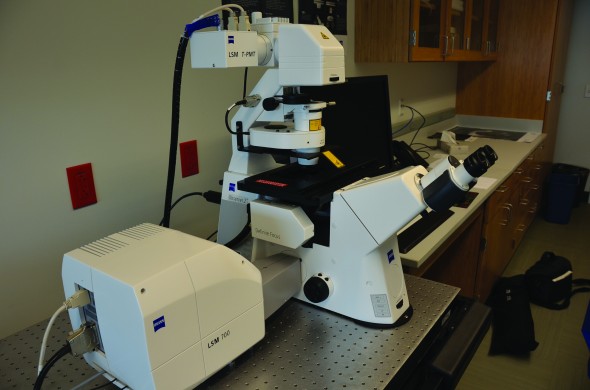 The Richard S. Shineman Center for Science, Engineering and Innovation is an impressive sight from the outside, but it is the cutting edge technology inside the building that is truly impressive. A $320,000 microscope has put Oswego State on the cutting edge of scientific research.
Located on the ground floor of the new Shineman Center science building, the microscope, a Zeiss LSM-700 Confocal Microscope, goes far beyond the average lens found in classrooms. The large white device is hooked up to a computer and monitor, where slides can be observed in great detail. It sits on a pneumatic table that prevents the microscope from being disturbed by any vibrations.
James Seago, a biology professor at Oswego State, teaches the class Plant Structure and Imaging, the first class to rely heavily on the new microscope.
"Each of these students will be able to advertise their experience with this kind of microscope," Seago said. "We've never had anything like this."
Seago has worked at Oswego State for 46 years, making him the longest serving science professor on campus. Snygg Hall, now awaiting demolition, was opened during his first year at Oswego State. He is pleased with the school's purchase of a Zeiss microscope, because "they're known to be the best in the world."
"The images off the slides are so clear," Ben Keel, a senior zoology major at Oswego State, said. "I've never seen anything like it."
Keel is a part of Seago's class, which is just learning to use the machine.
Although Seago teaches a biology class, the microscope will prove useful for many different purposes. The microscope is not limited to students from certain majors or classes, rather a committee of three professors decide how the microscope will be used.
The technology involved with the microscope is exceptionally advanced as well. One of the most amazing features of the LSM-700 is its ability to split a sample into slices using a laser, and then create a digital 3D image of the sample.
Using the microscope requires training, especially for the more advanced procedures.
"Three experts are coming in," Seago said. "They are all Oswego grads who have become experts in microscopy."
These experts will be visiting Oswego State over the course of the semester, to teach both students and professors the finer points of working the device. The Zen software that runs the microscope displays high-quality images of cells that have been dyed by students.
Of course, the Zeiss microscope was extremely expensive. It usually costs $320,000 but Oswego State only paid $250,000 because the school bought many smaller microscopes from Zeiss. According to Seago, it costs roughly $15,000 a year just to maintain.
"I definitely think it's worth it," Keel said.
Eric Newton
Contributing Writer
news@oswegonian.com