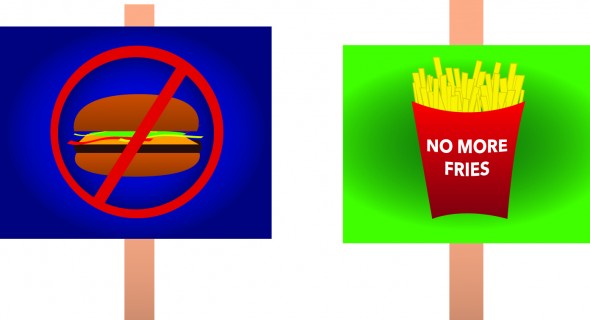 As students are shuffling into school, most will bid farewell to their summer job. I worked for a barbeque restaurant over the summer as a dishwasher and enjoyed it. As far as my job requirements, there was nothing out of the ordinary. Even my paycheck was standard because my rate of pay was $7.25, the federal minimum wage.
For many high school and college students, fast food or restaurant jobs are the best option to make some extra money while school is out. However, throughout this summer fast food workers in over 60 cities walked out of work and went on strike in order to get higher wages. A worker told the New York Times that all fast food workers want $15 per hour because "people can't survive on the minimum wage."
The problem with this is that these jobs were never meant to be careers, just a steppingstone into the workforce for younger citizens. These jobs require no special skills. Anybody can walk into a Burger King and get trained in a short amount of time with no prior experience. In my case, I was trained in one shift. Now let's assume people make the argument that working the fryers is a special skill: what would happen then? If wages increase, then the numbers of workers would decrease because companies do not want to pay more employees. In this new hypothetical working environment, it would be hard to get a job as a high school student who has no experience and this would lead to higher unemployment. Instead, there would be fewer employees and they would be working longer shifts. Also, keep in mind that a $6.75 combo meal at McDonald's would cost more because McDonald's would still have to make a profit. And what about the managers? I would assume that they would receive a large pay increase as well.
Imagine the same thing occurred at Oswego State. Assume that every student working in a dining hall is a fast food worker. If wages were to rise all across the country for fast food workers, there would be a dramatic increase of applications to the on-campus dining halls and a price increase in the meal plans could come with it. Even in the surrounding city, places like Fajita Grill would be up to their necks in applications for a job that requires no special skills. Many companies would then hire a small number of employees, and they would have to adjust their prices to keep their heads above water.
Don't get me wrong here. I respect those working in food service. It takes a lot of willpower to keep calm when a customer has no idea what they want and fortitude to deal with a large amount of customers overall. I washed dishes and fetched food for the line cooks over the summer, and I saw how tough it can be. At the very least, be respectful to those who give you that meal. But as much as I think fast food workers deserve to be treated with respect, I do not think they are worth $15 per hour.
Mitchell Petrella
Staff Writer
opinion@oswegonian.com