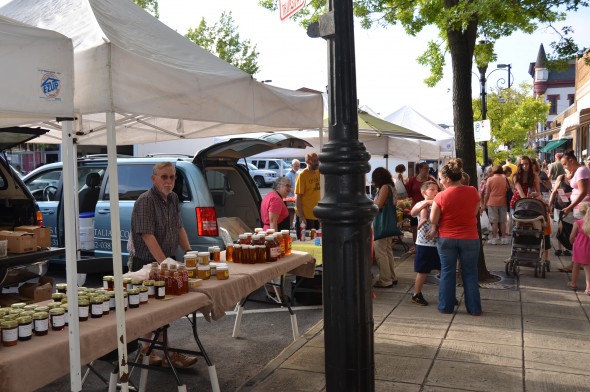 Whether looking for homemade jelly, fresh-picked fruits and veggies, custom-made clothing, homemade candy, kettle corn or live music, an Oswego State student can find a variety of local products at the Oswego farmers' market.
The farmers' market, open from 4:30 p.m. to 8:30 p.m. on West First Street every Thursday, has been a tradition in the Oswego community for 48 years and features about 50 vendors from Oswego and its surrounding areas.
Local vendors include farmers and bakers selling products ranging from heads of lettuce to syrup, wine, cakes and cupcakes.
Beth Hilton, executive director of the Greater Oswego-Fulton Chamber of Commerce, said the farmers' market has become a popular destination for Oswego State students in recent years, as more students prioritize a healthy lifestyle.
Alyssa Estus, a senior history major at Oswego State, said she usually comes to the market to do her produce shopping.
"The veggies are always fresh and super cheap," Estus said. "Plus you know the money always comes back to the locals."
Hilton cited the freshness of the products as a major advantage of shopping at the farmers' market.
"A lot of times, the products being sold have been picked that day," Hilton said. "So it provides a lot more time that the products will be fresh."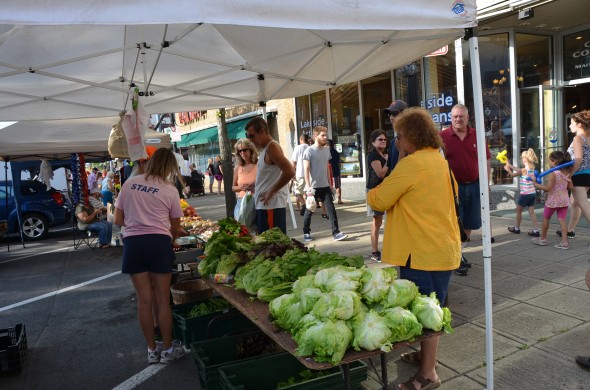 Walter Schneider, a Sterling native, sells homemade jams and jellies and produce made and grown with his wife. He is one of many vendors at the market who creates and sells products as a hobby or passion, not as an occupation. Schneider, who spent 18 years in Germany as a federal employee before moving to Sterling, had been creating jams and jellies for several years before beginning to sell his products at the farmers' market.
Schneider said his jams and jellies are often more expensive than brands available in stores, but also provide a quality and variety unmatched at supermarkets.
"People can go to a cheap supermarket and buy twice as much Concord jelly for the same price that you would pay for one of our jellies or jams," Schneider said. "I can't blame them for that, but we have a variety that you will never find in a super market either, like three berry jams made with goose berries, which people have probably never even heard of."
Along with the products of local farmers and residents, the farmers' market also features local businesses, such as Garafolo's and Wonton House, as well as the BookMobile, a mobile lending library. There is also a live band that performs each week.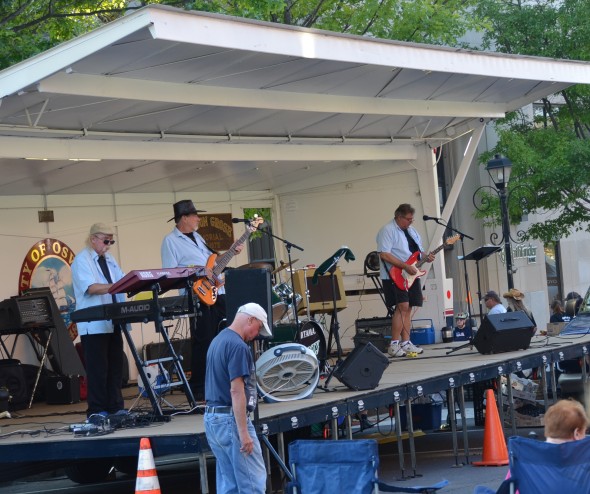 Hilton said it is this mix that creates a unique community atmosphere.
"It's definitely not just a shopping experience," Hilton said. "It provides live entertainment, direct interaction with the vendors and social interaction. It's a great way to get out and get fresh produce."
The farmers' market is scheduled to open every Thursday night until Oct. 17, which will be the final night.
Ryan Deffenbaugh
Editor-in-Chief
rdeffenbaugh@oswegonian.com