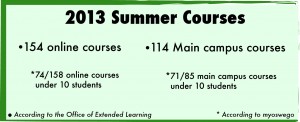 With more classes offered online than at the main campus during Oswego State's 2013 Summer Session, this summer will continue a trend toward more online-based learning.
This summer the school will offer 154 online courses and 114 campus-based courses. The school offers 319 courses total, with 42 offered at off-campus locations such as the Metro and Phoenix Centers and nine offered in "hybrid" locations, such as Watertown and Onondaga Nation.
Yvonne Petrella, the dean of Extended Learning at Oswego State, said that the school tries to weigh the decision of what type of courses to offer based on students' interests or needs.
"Managing summer classes is both an art and a science," Petrella said.
Petrella said that, since Summer Session runs on a self-sufficiency model, summer courses are demand-driven.
"It's based on 'what do students want to enroll in?' More or less, you're voting with your tuition dollars," Petrella said.
The university began offering summer courses online in 1996 and, according to Petrella, they have increased in population each year since. Petrella said that online summer courses are popular among students for their flexibility.
"Many of our students have part-time jobs in the summer or, if they have a part-time job in the fall or spring, they're able to work full-time in the summer," Petrella said. "If they want to do an internship or co-op, it lets them still take a course. I think it lets them live at home or live somewhere else that they want to live and still be close to Oswego."
Petrella said she has noticed a decrease in the amount of courses offered on-campus in summer as well, but that it is not something the school is intentionally doing.
"I don't know that we would purposely do less on-campus courses, unless we saw those enrollments drop to the point where no one wanted them," Petrella said.
As of Thursday, April 25, the course listings for Summer 2013 on MyOswego show that 71 out of 85 main campus summer courses have fewer than 10 students enrolled. For online courses, 74 out 158 possible courses have fewer than 10 students.
Petrella said that the preferred size for summer classes is at least ten and that she will meet with department heads at the beginning of summer to review which courses will need to be cancelled.
"We try to make sure that we cover instructional costs," Petrella said. "But when we make those decisions, we also make them in consultation with the department chair to make sure there isn't any special circumstance that would warrant a very low enrollment class continuing."
Canceling summer courses is not unusual, Petrella said.
Petrella plans to do a small research survey to determine whether students prefer online courses, and the reason for their preferences.
"Each class has a tendency to have its own personality and shift," Petrella said. "The mix of majors always changes a bit. But I think doing a snapshot and survey periodically helps us stay in line with the students and continue to be mindful of what their program needs are."
Summer course enrollment could also be being impacted by the switch to GE21, Petrella said, which made some of the more popular courses no longer required.
The school will continue to monitor student enrollment and interests and adjust to their needs and preferences, according to Petrella
"Clearly students are telling us, with their enrollment, that they have a preference for online courses," Petrella said.