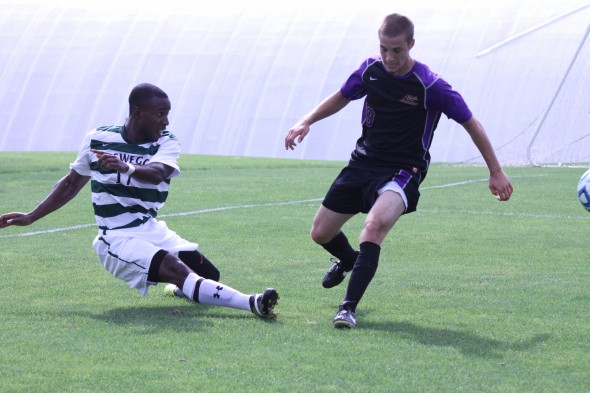 The Oswego State men's soccer team opened its season this past weekend by hosting a non-conference tournament at Laker Field. The Lakers tied Houghton College 1-1 in double-overtime on Friday and lost to Alfred 1-0 on Saturday.
Head coach Robert Friske and his players are looking to turn the page this season after finishing 4-10-1 last year. Despite three of their four wins coming against conference teams, the team failed to make the SUNYAC playoffs.
The 2012 season was one to forget for the Lakers, as they were outscored 25 to 16 by their opponents. They will also look to improve their play on the road this season, as they only won one of their eight away matchups last season. Junior Ryan Purdy led the team in goals, with five, and also had two assists and emerged as a leader on offense.
Junior defender Eric Widanka thinks the Lakers are on the right track to becoming competitive again this season.
"As a team we expect nothing less than making the SUNYAC playoffs," Widanka said. "But at the same time, any step forward from the previous year is an accomplishment in itself."
Despite going 0-1-1 in the season-opening tournament, the Lakers were aggressive and played well defensively. Freshman goalkeeper Jon Runge was impressive, tallying eight saves while allowing only two goals total in the two games. Senior midfielder Ryan Tibbetts, who scored the Lakers' lone goal of the tournament, was honored with an All-Tournament team selection.
The Lakers are still trying to find the right balance between veterans and some of the younger players, who seem to be off to a solid start.
"Our back line is a mix of two freshmen and two upper classmen, while our midfield and forwards are all returners," Widanka said.
"As far as [Runge] is concerned, starting as a freshman is an honor, and coming into our first scrimmage and helping contribute to a shutout proved to everyone that coach made the right decision putting him in the starting spot. He still has to continue to improve and push the team to a higher level, and I'm excited to see how he performs the rest of the season."
The men's team has 13 games remaining on its schedule for this season. Nine of the 13 come against in-conference teams, including one game against the SUNY Oneonta, who has been crowned SUNYAC Champion the past two seasons. The Lakers will play six home games at Laker Field, while the other seven games will be played on the road.
Despite having 20 freshmen on the roster this year, the Lakers seem to be an experienced team overall, as many of their integral players have returned for the 2013 season. Only two players were lost to graduation last season and those returning should have good chemistry.
Led by captains Zack Saccocio, Mike Naab and Jim Manton, the men's team is looking forward to turning things around and competing for a chance to make the SUNYAC playoffs for the first time since 2006.
"We've had a lot more team workouts during the season and we're always in the weight room during the week," captain Jim Manton said. "We also have a team yoga session once a week. Overall I'd say we have much better team camaraderie."
The Lakers are coming off a tough 2-1 road loss against Hamilton College on Wednesday and are set to host Nazareth College at 1 p.m. on Saturday.
Dan Lonky
Contributing Writer
sports@oswegonian.com