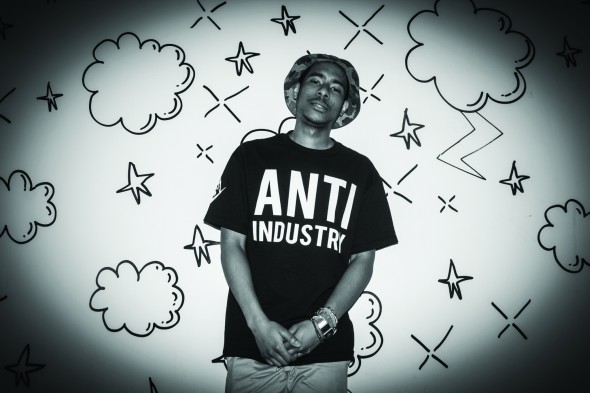 Whether on paper or through music, Oswego State junior Corey Sheen said he tries to tell stories. Sheen, a journalism major, has translated his love of storytelling to pursue a career in hip-hop.
"As a journalist, you have a responsibility to the people, and that's where the thought of my music comes from," Sheen said.
Sheen, who as a rapper goes by the name moNK, has a story of his own. The Brookyln native has, in only three years, launched a career that started with a mix tape recorded on Garageband his freshman year in Oneida Hall. Today he is recording with nationally-known producers and engineers.
Sheen said he first started recording following a joke with his friends from home that if rapper Lil' B was able to become famous, anyone could do it.
"It was like, anybody can rap, let's do something," Sheen said. "Let's make a tape. Obviously, no one took it seriously except for me."
Sheen said the positive feedback he received from other rising artists in Brooklyn encouraged him to continue his career. Capital STEEZ, a fellow Brooklyn-based rapper who, along with Pro Era crewmate Joey Bada$$, had gained a large following on YouTube and hip-hop blogs, told Sheen he had potential as a solo artist.
"He was one of the early people to come and say 'I could see you as a dolie rapper, just doing your thing,'" Sheen said.
Sheen said STEEZ, who died in December of 2012, provided him influence that helped his career continue.
"He was a huge inspiration for me to start and keep going," Sheen said.
Through a mutual friend, Moses Joseph, Sheen eventually met fellow Brooklyn-based recording artist YF, the front man of LWA (Leaders With Ambition), a creative group of rappers, singers, videographers and photographers that Sheen would eventually join.
"I went to him and he said 'I like what you're doing' and then took me into the studio with him," Sheen said.
The studio that YF took Sheen to was the Brewery Recording Studio, located in Williamsburg, Brooklyn and known as a spot for big names in the music industry to record. According to the studio's website, famous artists such as Kid Cudi, Skrillex, Raekwon, Styles P, Method Man and Matisyahu have all recorded there. The studio is also co-owned by long-time Kid Cudi producer and Grammy-nominee Dot Da Genius.
Sheen said he has been able to build a personal relationship with studio owner and professional sound engineer Andrew Krivonos.
"First impressions, chilling with him, talking with everyone there … he was cool, he liked my music, he told me 'You're a really good artist and it's a good movement you guys got going on' so pretty much he hooked it up," Sheen said. "I would say 'Yo I want a studio session' and bam, he was like 'Got you, whenever you need it.'"
Sheen is also an audio production minor and said he has benefited by watching Krivonos engineer his music. Sheen takes everything he records in Oswego back home with him to have Krivonos listen to.
"He opens the same session up," Sheen said. "So everything I did in Protools he can look at and talk to me about what he's doing to make it better. I just like being there to mix. I don't like just sending him a song and asking for a mix. I like sitting here and hearing what's happening in the room."
Sheen said he is likely to become studio manager at Oswego State next year, and wants to be able to reach the level where he can engineer his own music, allowing him to have control over each aspect.
"That's why I focus so hard on my classes here, because I know that's the stuff that is going to help me, when I get to the real world, to be a more well-rounded artist," Sheen said. "Not someone who just depends on someone else to do everything for them. I want to get my feet wet in photography and videography and directing and then obviously engineering."
Sheen said that trying to be a student and launch a career at the same time can be challenging, so he has attempted to do things that allow the two to mesh together.
"I give 100 percent in each, but I kind of have to separate it," Sheen said. "When I'm at school, I have to focus on school. I try to make what I do [musically] fit into what I do at school, which is why I have the audio production minor."
Sheen said majoring in journalism has also helped him as a lyricist, describing the two as "hand-in-hand."
In "Spare Change," a song Sheen will soon release, he took stories he gathered from talking to homeless people in Brooklyn over the summer and turned their stories into a song.
"Journalism is, from a high school age, one of the things where my heart is," Sheen said. "Writing for the people, even if not necessarily working at a paper, I still think, whether it be informing people of things they don't know about, like I honestly would want to work at National Geographic … Or even working for a newspaper, trying to warn people … I don't think I would make music the way I do if I didn't start off in journalism as my primary form of writing."
Sheen said his focus while at school is always on graduating, but while at home he has more time and is able to do more things musically. Sheen said his style of writing is also at times affected by the differences between being in Oswego or Brookyln.
"The studio out here, I record mostly by myself, so a lot songs end up being retrospective," Sheen said. "Being out here is my escape from the city and the crowd and I have space to breathe and space to think. When it's warm I'll go out to the lake and write or listen to a beat."
Sheen said the music he writes shifts when he is back home.
"When I'm in the city, I'm probably chilling with a lot more people, running around doing a lot more things in a lot more places," Sheen said. "So the music ends up being more turned-up, party-oriented. Good-vibe type stuff."
Sheen described his sound as eclectic. He said he is influenced by Kanye West and Thom Yorke of Radiohead, both artists that push genre-boundaries.
"I like challenging myself as an artist to do different things that I haven't done before," Sheen said. "Radiohead, for instance, one of my favorite bands ever, I took a piano loop of theirs and just rapped over that. And I don't know if other people are doing that or even if people will like it. But I like it."
Sheen said he tried to focus his music around positivity, something that comes from being around other people his age trying to become musicians or artists.
"My peers inspire me," Sheen said. "I don't view it as competitively, more like we are all in it together. Everyone making music. There's people that I personally know and see in the hip hop game and they all have a message and for the most part it is positivity and that's the message that we are all trying to send and we're all motivated."
Sheen said his focus will be strictly on music while he is home, including an internship at the Brewery Recording Studio, where he will have the chance to engineer and do press relations for the studio, providing experience in both his major and minor.
According to Sheen, he will also be consistently releasing music and videos and doing shows throughout the summer, including an E.P slotted to be released next month.
"I'm gonna do everything I can, living like I'm going to tour the world at the end summer or someone's gonna be like 'Alright let's go,'" Sheen said.
Along those lines, Sheen said he and the LWA crew could possibly be opening for Kendrick Lamar this summer, an opportunity that opened up for him through Joseph.
Sheen said he is focused on doing whatever he can to find success as a hip hop artist.
"To make it in music industry, it's an industry based around the dollar .. When you're young it's like 'Time to get the money,'" Sheen said. "And that's where I'm at now."
Sheen's music can be found on his Soundcloud at Soundcloud.com/euphonious-monk or on his (euphonious) MoNK Facebook page.