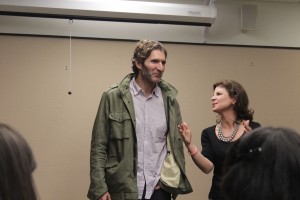 From an early age, author and screenwriter David Benioff loved to make up stories.
In his first grade class, Benioff was asked to write a story about what his father did for a living. He wrote about his father, the submarine commander.
"I was always a liar," Benioff said. "I just made up stories all the time."
Benioff, author of the 2012 Oswego Reading Initiative book "City of Thieves" and showrunner of the popular HBO series "Game of Thrones," visited the Oswego State campus on Wednesday to speak with students and the public in two question-and-answer sessions.
Benioff answered any questions the audience had for him, ranging from his most recent work with "Game of Thrones" to how he got started with his first novel.
As a young writer, Benioff said he learned from his failures.
In college, he was rejected admission to the introductory creative writing class three times, and one novel he wrote during his twenties was rejected more than 30 times.
"I really thought this book was gonna change everything and it got rejected by everyone," Benioff said. "I actually met with one of the editors and he said 'you know I've always believed there are no narrative prodigies… there are very few novelists who are good at an early age.'"
Benioff's success came once he realized that he needed to focus himself on a different type of story unlike the 700-page novel he had been trying to publish.
"I needed something much shorter that I could control," Benioff said. "'25th Hour' came from that."
His novel was eventually adapted into a movie, which Benioff himself wrote the screenplay for.
"I never thought I'd be a screenwriter," Benioff said.
Benioff soon went on to write other screenplays for films, such as "Stay," "Troy" and "The Kite Runner."
His most recent novel, "City of Thieves," published in 2008, tells the story of two young men, Lev and Kolya, who have a seemingly simple task: find a dozen eggs. But the story is set in war-torn Leningrad, and the two men find themselves on a journey that takes readers along for the ride.
Even though it is a work of fiction, Benioff said an immense amount of research was required for writing the novel.
"My best resources of all were these diaries that were written by people who lived through it," Benioff said. "And one of the things that was kind of amazing to me was that this was one of the worst periods of human history, just in terms of the sheer level of atrocity, and these diaries were, almost without exception, devoid of self pity and in fact often darkly funny."
Benioff also shared some insight on his current project, "Game of Thrones," for which he has been adapting the book series "A Song of Ice and Fire" by George R.R. Martin into screenplays while also producing and directing the series.
Benioff cited some of the challenges of adapting books into a TV series.
"There's no science to it," Benioff said. "I think with each episode we approach it anew and try to figure out the best way to tell this particular story. It's a constant challenge."
He also said that while it has been exciting to be part of such a large project, it can be daunting at times.
"It's kind of frightening," Benioff said. "Everything just keeps getting bigger and bigger and bigger. We thought we were already a pretty big show but if we are going to keep up with George we're going to have to get even bigger. He's got some great devious stuff lying ahead."
Benioff offered some advice for writing good characters for both screenplays and prose.
"You have to be very willing to change whatever you originally put down and really be flexible," Benioff said. "Not to sound too fancy-pants about it, but sometimes the characters tell you what they're gonna do and you need to listen to them."
Benioff's other main piece of advice for aspiring writers was that persistence and practice is key.
"I was the farthest thing from a prodigy," Benioff said.
Benioff's hard work paid off, but he also acknowledged that sometimes a little bit of chance is needed.
"Don't quit and be lucky."