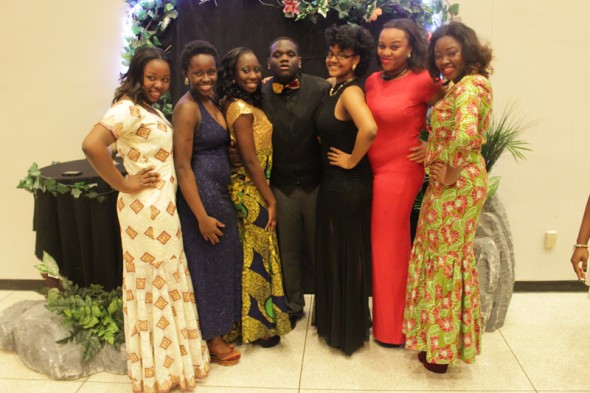 The Hewitt Union Ballroom was transformed into a jungle paradise as the African Student Organization celebrated their ninth annual dinner, this past Saturday, April 6. Entitled "Sao Tome Sunsets: Jungle Royalty," the dinner was a tribute to African heritage.
President of ASO, Daniel Marfo explained that the executive board wanted to bring something new to the table.
"The purpose of the dinner is to thank the campus for all the support they have been giving us and to educate them about African culture," said Marfo, who is an Information Science major and a brother of Phi Beta Sigma Fraternity, Inc.
Upon entering the ballroom, attendants were engulfed in the upbeat African music and treated to spicy appetizers. Even to someone completely out of their element, the dim lights and genuine, welcoming smiles were comforting. The décor was enticing, as much of the lights came from glowing, plant-like centerpieces surrounded by tribal print cloth pieces.
An African dance group, Akuma, from Syracuse opened the show. The energetic and rhythmical group performed several songs that consisted of three drummers and two female dancers. Throughout their dance and songs they encouraged audience participation, togetherness and unity.
Attendants such as Maggie Rivera, the Student Involvement Coordinator of Oswego State and Howard Gordon, the Executive Assistant to President Deborah Stanley, laughed, clapped and discussed the African inspired clothing worn by the ASO E-Board members.
Seniors Chris Gilkes and Sherade McKitty hosted the dinner. It was interesting seeing Gilkes out of his Oswego State basketball clothes and connecting with McKitty. They joked about the tribal print cake and attempted to bring back to life the audience who, after the dinner was served, appeared to be ready for a nap.
"Jungle Royalty" had several different performances, from a dance competition of the popular Azonto dance to a fashion show. Recently formed girl-group, Kinetic Voices, also brought their magnetic voice to the ballroom stage. The dinner was a great mix of cultural diversity and elegance.
The African Student Organization hosts general meetings every Thursday, 7 p.m. in the Campus Center room 201.