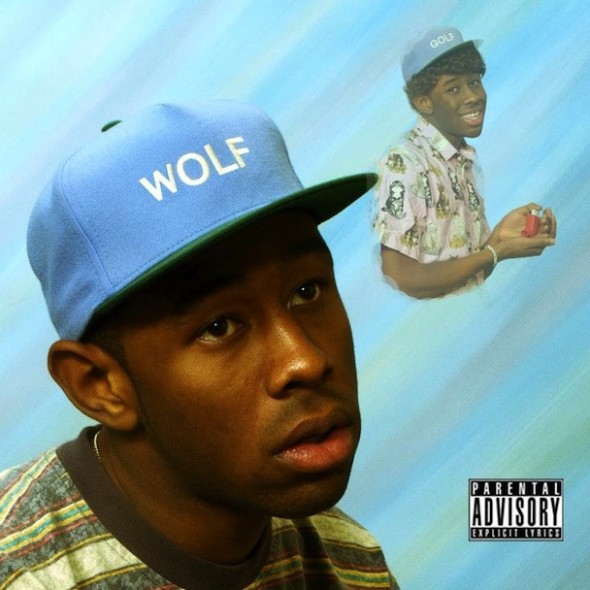 Tyler, The Creator has grown into the spotlight since hitting the music scene with the video for "Yonkers," the lead single off his second album "Goblin." Tyler addresses coming off this success, along with loss and love, on "Wolf," his best album yet.
Continuing the theme of his past two releases, "Wolf" is based on therapy sessions with Dr. TC who is Tyler's conscious. Wolf takes us to Camp Floggnaw, an imaginary camp where 'Wolf' Tyler on this album is beginning to attend. The album's main secondary characters are Samuel, a misunderstood violent side of Tyler's and Salem, Samuel's girlfriend.
The album starts with an eponymous instrumental that is not like anything we have heard from Tyler production wise in the past, but in a good way. Tyler sprinkles the song with profanities, possibly to remind us that he is still himself even on a mellow song like this. "Jamba" and "Cowboy" follow this mellow track with two different forms of the Tyler we are used to. "Jamba" is Tyler's aggressive take on his new found fame and what that comes with, including his father, who left his life as a child and is still not speaking to him. "Cowboy" is a darker look into Tyler's psyche. Tyler stresses once more that money has done nothing for him but is still causing changes in his life, especially as a barrier between him and his friends in some cases.
"Awkward" brings forth a side of Tyler that was only touched on lightly on other albums. It is Tyler's story of his first love at 16. The fast-paced, exciting "Domo23," the lead single off the album, follows this. Then Tyler dials back once again with string heavy song, "Answer." Tyler addresses his father leaving him, a common theme in his music, and the death of his grandma, which Tyler is having a difficult time dealing with. "Answer" is probably one of the strongest tracks on the album, Tyler exposing these inner thoughts, combined with this interesting production, is an instant success that fans will love. Followed by "Slater" a song about Tyler's bike, which is featured on one of the many covers for "Wolf."
"48" features Nas speaking on the crack selling culture of the 80s at the beginning and the end of the song. Tyler raps the song in the perspective of Sam and explains his drug dealing past. This is one of Tyler's strongest statements on the album. He explains the fake glamour associated with selling drugs and what attracts drug dealers to this path. Tyler follows this with arguably one of the best songs on the album "Colussus," which takes us through a day with Tyler being accosted by fans. He struggles with being annoyed by overzealous fans, but appreciating the fact that his music has saved lives. This song puts itself in the same category as Eminem's smash hit "Stan," which follows an obsessed fan as well.
"Partyisntover/Campire/Bimmer" is probably one of the weaker songs on the album. It is a three part song, which is an interesting concept, but none of the songs stick out, which is probably why they had to share. The album follows this weaker song with another awkward love song from Tyler "IFHY." "IFHY" is Tyler's darker look into his feelings for Salem (girlfriend). The chorus follows as, "You're good at being perfect, We are good at being trouble." Tyler is feeling two extreme emotions for this girl and it comes out partially obsessive and violent, especially when Tyler considers she might leave him. The feature on this track from Pharrel fits absolutely perfectly. It is well known that Pharrel is Tyler's idol; so seeing this collaboration is truly a treat.
"Pigs" takes us deeper in the character of Samuel. Samuel is Tyler's alter ego, who has gone through a rough life of bullying, which explain his current anger issues. Tracks like these are what garner criticism of Tyler for his frequent use of violent images. This is followed by "Parking Lot," homage to Loiter Squad, which is a group of Tyler and his friends' who engage in ridiculous antics. The next song, "Rusty," is the best raw rap song on the album. The song features Domo Genesis and Earl Sweatshirt, two of Odd Future's best rappers. Tyler uses his verses to be extremely critical of his fans for being overly judgmental. Tyler mentions one of his biggest critiques, which is his homophobic lyrics, but directly counters this with mentioning his collaborations with openly bisexual Frank Ocean.
The song, "Trashwang" is a song that only the purest Odd Future fans will appreciate. This is followed by one of the most surprising songs Tyler the Creator has made to date. On "Treehome95," featuring Coco O. and Erykah Badu, Tyler sings for a brief moment, but lets the guests take the lead. The song is an innocent play on words, with the ladies asking Tyler to come to their tree house. This song is followed by "Tamale," which is Tyler clearly having fun. Tallulah's appearance on the track adds a level of excitement and disorder. Tyler mentions his calming down and then turns that on its head and shows why not everyone is a fan of him.
The last song of the album "Lone" is where Tyler explains what is really frustrating him. We see Tyler question his desire to make music, but realizing too many people rely on him and the story of his grandmother's passing. "Wolf" is sure to be considered Tyler's best work to date. Tyler's growth in production, lyrics and concept came together for a dark and interesting look into his mind.