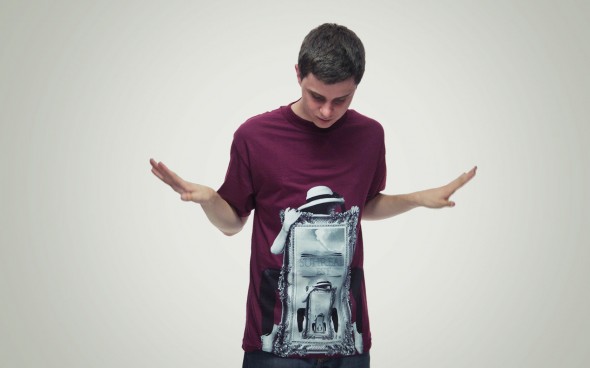 Watsky released his freshman album, "Cardboard Castles," from his new label Steel Wool Entertainment/Welk Music Group/EMI on March 12 to iTunes and all major retailers. The album features 17 tracks providing more than an hour of quality music.
George Watsky is a rapper, writer and performer who originates from San Francisco and currently lives in Los Angeles. Watsky started with spoken word, slam poetry and won the Brave New Voices National Poetry Slam in 2006. Afterward, he appeared on Russell Simmons Presents Def Poetry's final season in 2007. In 2010, Watsky released an album entitled "Watsky" which reached number seven on the iTunes hip-hop chart.
On Jan. 17, 2011, Watsky uploaded a video titled "Watsky raps fast." The video went viral and currently has more than 24 million views. He has worked with Epic Rap Battles of History, participating in multiple videos that featured the fast-paced rap style he has come to be known for. Watsky has released several mixtapes since his last album, but says he started rapping "as early as 2007."
Kush Mody, who Watsky has worked with in the past on a bluegrass/hip-hop album titled "Watsky & Mody," co-produced "Cardboard Castles." The album currently stands at number 25 on the iTunes hip-hop/rap chart and peaked at No. 1, surpassing Macklemore's "The Heist." "Cardboard Castles" currently ranks at number nine on Billboard's top 25 independent albums chart and No. 4 on the Rap album chart.
Watsky said the album has been in the works for some time now.
"This has been in planning for two to three years now," Watsky said. "I would hold things that I felt were too strong for the mixtapes for the album."
The album starts off with the song "Fireworks," where Watsky grasps the feeling of the Fourth of July. The track opens up with sound of fireworks going off which were created by Daniel J. W!shington. Watsky calls the producer a "master of collecting sounds and turning them into percussion beats." The track jumps right into Watsky's original style of using insightful lyrics with his rapid succession of syllables. The song ends with a short conversation between Watsky and a young boy. The boy comes up in the two skits on the album, as well as certain points before or after songs. Watsky met the boy, Norton, while working on music videos.
"I met Norton in an earlier music video," Watsky said. "The conversations are heartfelt and he talks about things I remember from when I was 8 years old."
Watsky said that the two had a conversation for one or two hours and chunks of that conversation were used for transitions on the albums. This helps make the album more compelling and more honest. These tracks featuring Norton are five and 13 and the boy has also appeared in Watsky's most recent music video for the song "Ugly Faces."
The second track on the album was released as a single in January. The song is used as the theme song in an online web series done by Watsky titled "Watsky's Making an Album" and is featured on LOUD's YouTube channel. The song is also used in the second season of the series. The song talks about getting through hardships and Watsky compares himself to being as strong as an oak tree. He talks about how while he may not have a solid income, he is doing fine.
The track "Kill a Hipster" features Chinaka Hodge, who is also a slam poet and was in two seasons of HBO's Def Poetry. The song goes deeper than talking about people trying to keep up with the latest trends to argue against it. One line says, "Look in the mirror and it's clear I've become one of 'em," telling listeners to check the mirror first before they judge someone.
Kate Nash collaborated with Watsky on this album for one track on the album titled "Hey A*****E." She sings the opening, which provides the meaning of the song from the get-go. Then, Watsky comes in and strengthens that idea. The song is about being grateful for what you do have rather than focusing on the negatives in life.
"Tiny Glowing Screens Part 1" takes a slower tempo and Watsky does not use his speed rap skills to the extent he does in other tracks. The song talks about how technology has improved and how far civilization has come since "The Land Before Time." (Yes, that's a reference to the movie.) He talks about how people become so dependent on technology that they're belittling their skills.
"Tiny Glowing Screens Part 2" jumps right into Watsky's ability to make you think. It takes a darker tone, but just as all of Watsky's work, there is real meaning behind what he is saying. Watsky was inspired by Blackalicious' "Blazing Arrows" to make a two part song. He also wanted to do something less introspective, like most of his songs are.
"It was important for me to have content that was not inward," Watsky said.
He did not want the album to be self-absorbed, and to not have "everything be me, me, me."
The track is not like others onthe album. This is where Watsky's slam poetry background is truly shown. Watsky's poem starts off generic and turns into a story about himself. At the same time, the story is about everyone; it is something we can all relate to. The poem has memories from Watsky's life in it, but they are still on a level where anyone can connect with him.
"Dedicated to Christina Li" is a true story about a girl Watsky went to school with. Li had a crush on Watsky and he never really understood it until it was too late. He talks about how he knew he could have given her a chance but he never did. Watsky dealt with problems with epilepsy and Li was always kind to him, even giving him a card. Watsky said he was nervous of what the reception of the song would be like.
"I was pretty nervous how her family would respond," Watsky said.
He added that they gave him their blessing to use her real name and that they liked the song. He said that it took some time for him to unpack what had happened, he never gave her a shot and the song shows regret in him not doing so. It is a love song about a broken heart. "A heart breaking sounds like a guitar string snapping," is one of the lines in the chorus.
The title track, "Cardboard Castles," relates to Watsky's childhood when he would make cardboard castles. The song has a more positive take on life. Watsky talks about how all of his hard work will pay off and that he will have time to rest once he's moved on. He accepts that he cannot live forever, so he is going to make the most of it while he is here. The song is about worrying about what you can control and to stop dwelling on situations that are out of your hands. The track incorporates a chorus that really ties in well with the rest of the track.
"Cardboard Castles" is another masterpiece by Watsky. His truthful and insightful lyrics create a trust with listeners that not many artists can achieve. Watsky truly raps about his life experiences, something hard to believe a 26-year-old can accomplish.
These words do not do "Cardboard Castles" justice. It does not matter if you like rap or not, but Watsky will not disappoint. Keep an eye out for Watsky in the future, he has no plans at stopping here saying, "this by no means is the beginning." The insightful and real artist has a lot more to bring to the stage.
"I want people to see the broader picture," Watsky said. "We're a cog in how everything changes."
Watsky began his "Cardboard Castles" tour on March 8 and will come to the Soundlab in Buffalo on April 6. Tickets can be found at georgewatsky.com.