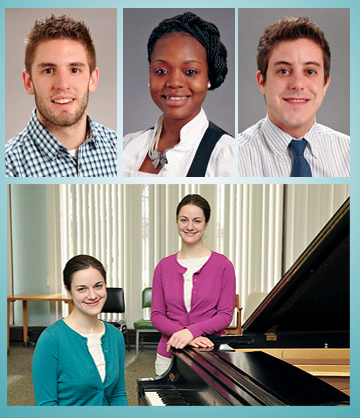 Five Oswego State students have been selected for the 2013 State University of New York Chancellor's Award for Student Excellence and they will be honored in Albany on April 4.
The award is the highest honor from the state's university system. Those to be honored are Elizabeth and Evangeline Canfield, Barbara Ciceron, Adam Szymaniak and Jon Whitelaw.
According to the SUNY website, the award recognizes students "who have best demonstrated and been recognized for their integration of academic excellence with other aspects of their lives, which may include leadership, campus involvement, athletics, career achievement, community service or creative and performing arts."
The students have all been nominated by members of Oswego State's faculty and then chosen by a SUNY selection committee.
The Canfield twins, both music majors, co-founded the Rubenstein Society for piano enthusiasts on campus. The two enjoy performing together and will be attending graduate school together.
"It looks like my twin and I are going to be going to graduate school in the fall for piano performance Masters' degree at Bowling Green State University," Evangeline Canfield said. "We're both really excited about that and I think it'll be a good opportunity to continue our education."
Evangeline says that they have both worked hard during their four years at Oswego State.
"It feels very, very good, we've worked very hard for our four years here," Evangeline said. "It's almost like a thank you."
Elizabeth is also honored by the award.
"I'm very exicted, surprised and very honored," Elizabeth said. "It's not something I expected to get, I don't think any of us really expected to get this award. Like they say, hard work does pay off. "
Elizabeth believes that Oswego State has helped her achieve this award.
"It's amazing the experiences and opportunities we've had here," Elizabeth said. "Just amazing, the music teachers here will go the extra mile, we've had some wonderful experiences."
The sisters both said they do a lot together, even taking every single class at Oswego State together all four years.
Ciceron is a dual political science and communication and social interaction major. She was the president of the Political Science Club and is a McNair Scholar. Ciceron is a native of Haiti and is a certified home health aide who cares for the elderly and disabled when she returns to her home in Brooklyn. She serves as the treasurer of Chi Alpha Epsilon National Honor Society and a director of Student Association Programming Board. Ciceron plans on attending law school and aspires to work for the United Nations.
Adam Szymaniak is a biochemistry major who has worked on four major research projects. He has presented his work at five regional and national conferences. Szymaniak is the president of the Chemistry Club. He tutors and volunteers with the Adopt-a-Grandparent program in his spare time.
He has also played piano for the College-Community Orchestra and College Hour. Szymaniak says that he will move on to Boston College where he will pursue a Ph.D. in organic chemistry and has been given a full ride to do so. Szymaniak is just as estatic to have won the award as his peers.
"It feels good, I'm super excited," Szymaniak said. "I didn't expect to win it."
Szymaniak thanks the chemistry department for allowing him to do what he loves. He said that he spends most of his time in the lab until he returns to Sheldon Hall to sleep. Szymaniak has been working on the same research project for about a year now.
"I've been working on the same research project for almost a year, and near the start of the semester I made a major breakthrough by synthesizing the desired product of our collaborators overseas for medicinal testing," Syzmaniak said. "Since then, by spending a large majority of my time in the lab, my partner and I have about 35 compounds with more coming the next week or so, to send for testing against diabetes."
Jon Whitelaw, an adolescent education major concentrating in social studies, is the men's ice hockey team captain. Whitelaw was also named a second-team All-American for his performance on the ice. He has won the SUNY Athletic Conference's Dr. Sam Molnar Award, the Chancellor's Scholar Athlete Award and is a member of the SUNYAC All-Academic team. Whitelaw has also won SUNYAC Rookie of the Year. The Huntsville, Ont. native teaches hockey fundamentals to children in his hometown and student teaches at Nottingham High School in Syracuse. Whitelaw is honored by the award.
"It's definitely quite an honor, quite an achievement," Whitelaw said. "I've been fortunate to have had a lot of athletic success and I've been recognized for that and to be able to be recognized for my academics coupled with my athletics and everything as a whole, I thought that's something that I'm pretty proud of and a great honor to receive."
Whitelaw is also glad to be honored alongside his peers.
"To be mentioned in the same class at the same level as some of the other recipients it's pretty amazing to see what they've done as well," Whitelaw said.
As for his future, Whitelaw is not entirely sure what is in store for him after graduation, but he has some ideas.
"For next year, at this present moment I'm not positive," Whitelaw said. "I would definitely like to try and pursue opportunities with hockey at least for a year or two, I would like to pursue opportunities potentially overseas because I think if I'm able to travel and see the world at the same time playing hockey I couldn't ask for a better experience."
Whitelaw is happy and feels fortunate that things have worked out for him.
"It's def[initely] a pretty prestigious award," Whitelaw said. "They only hand so many out so to be in the same group as the other recipients that won here at Oswego is an honor in itself."