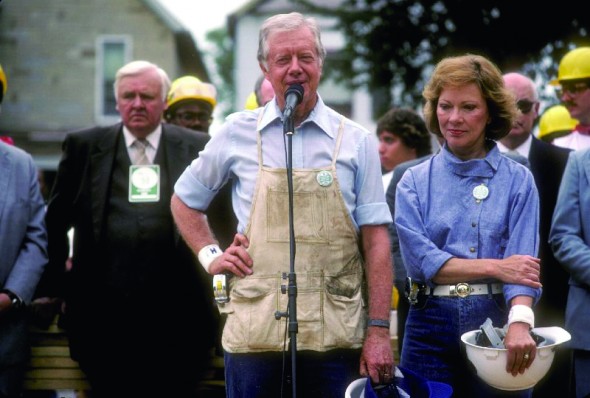 Many students on campus prioritize doing well, but at least a few Oswego State students also focus on doing good. Whether running a blood drive, feeding the homeless or building a house for the less fortunate, the members of Habitat for Humanity are always looking for ways to help out.
"I've been getting a lot of emails from students saying they want to get involved, which is awesome," Ian Cohn, president of the Oswego State chapter of Habitat for Humanity, said. "A lot of students ask me, 'I need to fill hours, I have ideas we can do', which is great because we have the money to do that. I can only do so much. It's nice that ideas are being brought into the scene."
Habitat for Humanity is a non-profit organization most famous for building houses in impoverished communities and for needy families. In Oswego, however, builds are not always feasible.
"On campus we're limited as far as doing builds because the weather up here is so bad," Cohn said. "So we also do can drives and food drives and we work with the Salvation Army."
Oswego State's Habitat for Humanity chapter gets a lot of their involvement from students who need community service hours, sometimes for a class or as part of the requirements for living in Hart Hall or Johnson Hall. Volunteers have the opportunity to help out in their community in a number of different ways.
"We just had a blood drive for three days where we had some students helping out there," Cohn said. "We have a bottle drive coming up. We have volunteers at food drives feeding food to the homeless. We also try to work with the churches in town as well because they have a lot of charitable events that we can volunteer with."
Cohn became involved with Habitat for Humanity as a freshman and took over as president this semester, after the previous president left to study abroad.
Cohn said he was hesitant at first about taking the position, but has adjusted and is now trying to advance the program before he graduates this spring.
"I'm trying to bring it back to life as much as I can for when [the previous president] comes back because I won't be here next semester," he said.
For this semester, Oswego State's Habitat for Humanity is currently planning a food drive with the Salvation Army, a bottle drive and possibly to team up with the Syracuse University chapter of Habitat for Humanity to participate in a build.
Habitat for Humanity on a national level has been instrumental in helping families that were devastated by natural disasters by building homes for them.  According to Habitat for Humanity's website, the houses they build are simple and affordable for low-income families around the world, and they build sustainable energy-efficient housing whenever possible.
For high school and college students, Habitat offers the "Collegiate Challenge," which is an "alternative break program," where participants can spend their spring break working with a Habitat affiliate in areas around the U.S. to build houses.
Habitat for Humanity has meetings every other Thursday in Campus Center room 256, with the next meeting scheduled for March 14.
"It's not enough to just go to college for four years and just go to class," Cohn said. "You need to be involved on campus. There's some value in giving back to a community that you live in and has given a lot to you. So why not give a little bit back? And it's fun."