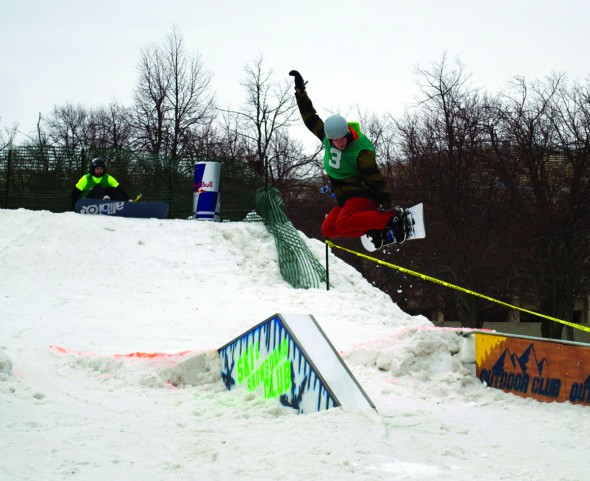 If a student walked through the Academic Quad Hall last Friday night, they would have noticed a crew taking snow banks and transforming them into something more than just a giant snow pile.
Oswego State held the second annual Rail Jam in the middle of campus, transforming the quad into a miniature mountain set up for snow riders to show off their skills on Feb. 23.
Students strapped on their helmets and competed against each other in ski and snowboard events. Skiers and snowboarders competed in separate heats and the top competitors would move on to final heats.
Eric Muldoon, a member of the ski club, competed in last year's event, but could not compete this year due to a seperated shoulder. That did not stop Muldoon for spending his Saturday as a spectator at the event. He felt the event was too big of a spectacle to pass up.
"Of course I had to go and support all of my ski club buddies," Muldoon said. "Having something like the Rail Jam in our quad is so groundbreaking."
The event had a long list of sponsors, starting with the ski club, who helped bring the event together. Sponsors included WYNO, the Lifestyles Center and the Outdoor Club. The Rail Jam also had a national sponsor in Red Bull who was handing out free Red Bull to the crowd during the event.
With all the elements that each sponsor brought to the table, it set the scene for a successful event that had something to offer everyone.
"The atmosphere was great," Muldoon said. "There was a DJ jamming out with the best tunes, free Red Bull, shirts being shot into the crowd and costumes being handed out. What more could you want?"
With some rain in the forecast, there was a possibility of having not so ideal weather for the event, but Mother Nature was able to hold out.
"The weather started off raining but thankfully, stopped and it was nice enough to want to hang out outside for three hours," Muldoon said.
Even for those who were not that interested in skiing or snowboarding, the Rail Jam had plenty of activities that kept the crowd occupied. With the recent craze of the "Harlem Shake," those present at the event decided to make one of their own. Muldoon said it was a great way to get the whole crowd in on the fun.
Muldoon said the "Harlem Shake" was his favorite part of the event.
"I really wanted to make one," Muldoon said. And I think doing it at the event took the video above and beyond."
After such a great success, it looks like the Rail Jam could be on its way to becoming a staple at Oswego State.
"There are only a handful of schools who could pull something like this off right on their campus," Muldoon said. "With how fun the whole event is, the amount of people going each year will only increase."