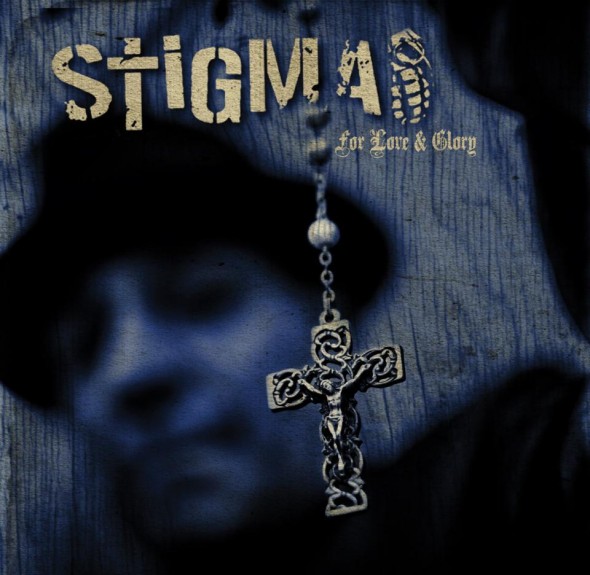 Out of New York comes a band, Stigma, fronted by a prominent figure in the hardcore and punk scene, Vinnie Stigma, founder of the influential hardcore band Agnostic Front.
Stigma, also known as "The Godfather of Hardcore," has been working hard since he formed Agnostic Front in the 80s, playing guitar for Agnostic Front and spending time playing for another popular N.Y. hardcore band, Madball. He released his first solo record, "New York Blood," not too long ago under the name Stigma. Fast forward to 2013, and he has come out full swing with his sophomore effort "For Love and Glory."
This album sticks to a fast and to-the-point formula, much like Agnostic Front, but less hardcore-influence of Agnostic Front. Paying homage to the punk aesthetic, these songs are very catchy and their sing-along vocal style will keep these songs stuck in your head for days.
Their lyrics also stood out, conveying a message of positivity. For example, the song "The Spirit Remains" portrays that message clearly with lines like, "We choose to live this way. Don't care what others say. Outcasts of our society," and "This is a way of life too strong to ever die. We do it for the love and the glory."
Lyrics like these teach you that you keep pushing on, even when life brings you down. This theme is prevalent throughout the entire album.
Furthermore, the instrumentation of the album is fun and upbeat. While it is not too technical or different, it does a good job creating an adrenaline-filled atmosphere. The lead guitarist does pull out some nice rock 'n' roll solos, which complement the songs nicely and add some variation to the guitar work. The crunchy and heavy tone of the bass guitar is noteworthy and it definitely stands out among the other instruments. The drums keep a steady, fast beat throughout all the songs without doing too much to distract from the rest of the instruments.
Even if you are not a fan of older punk music, you can still enjoy what this album has to offer. Many songs like "Don't Lose Faith," are very reminiscent of newer mainstream punk bands such as Rise Against. The grungy bass guitar opens up the song, then every instrument blasts in, and with the lead guitar prevailing with a catchy melody that reminds you of something Rise Against would play.
With 13 songs spanning a time of nearly 36 minutes, it is a short, but fulfilling listen for any punk fanatic.
If you want a catchy, fast, fun and uplifting punk record that does not stray too far out of the boundaries of this genre, pick up the album for a cool listen on your drive out to the next punk show.