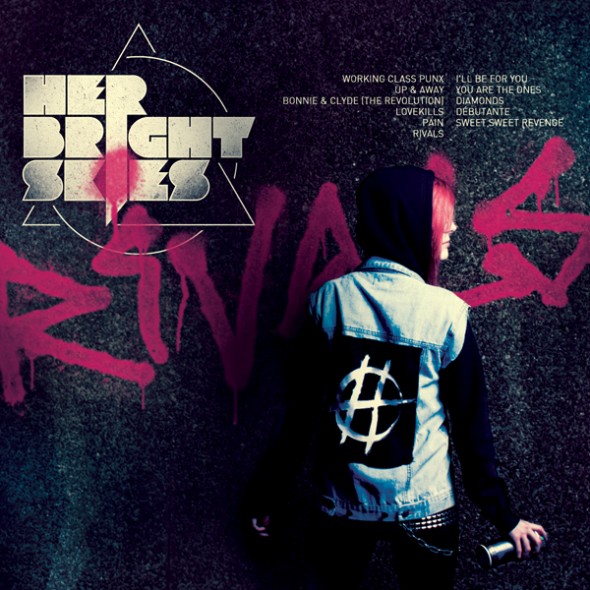 Her Bright Skies, an up-and-coming pop-rock band has scratched the surface of their potential in their new album, "Rivals." The album does not take listeners anywhere they have not been before, but it is a start for Her Bright Skies.
It does entertain and does not completely fail as the group's first major release. What the project lacks in craft, the band makes up for in enthusiasm, which results in a equilibrium that allows for strong work.
The album begins on a high note with "Working Class Punx." The song takes the listener through a mundane workday in the complete opposite with a fast pace that is sure to be an immediate fan favorite. This pace continues into "Up & Away," the second track on the album, which seems to be more filler than a serious effort. "Bonnie & Clyde (The Revolution)" is probably the bands strongest track both lyrically and sound-wise.
The album falls into a rut in the mid-section and this is where Her Bright Skies shows their youth. "Love Kills" is a strong effort, including an eye-opening guitar solo but it falls short as anything beyond flair. "Pain"and the title track "Rivals" both offer some context lyrically but neither song comes off as a song worth replaying.
In a somewhat veteran move, the group changes the pace completely with "I'll Be for You." This track is the type of song that fans of this genre will love from the start. Its compelling lyrics and simple composition make it easy for the listener to appreciate. The band picks up their effort with the second half of the album starting with "You Are the Ones." This song attempts to follow up the previous song by going toward a more sentimental context. The change in pace, even though it was successful, does end up exposing the band's repetitive nature.
The last part of the album is the band's best attempt at a solid string of mature songs. They appear to want to prove that they create their own style but still fit into the music industry. "Diamonds," the ninth track, comes on strong at first, but does not separate itself from the beginning of the album. The next track "Debutante" is a much more successful track, touching on the sound the band was striving for. The album's finale "Sweet Sweet Revenge," comes off as just sound filler and does not differentiate itself at all from the rest of the album.
Her Bright Skies cannot be completely happy with themselves after this release. With that said, they showed potential when the opportunity presented itself, and took a positive step forward. Despite those minor accolades, "Rivals" did not work together as one cohesive work and was an average album at best.