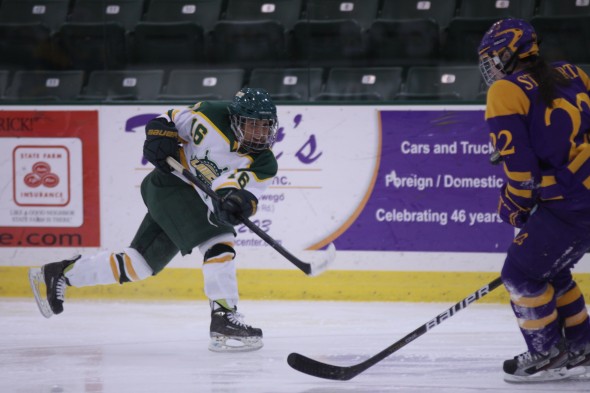 Melissa Seamont was just 4-years-old the first time she put on skates. Fast-forward 16 years later and she is the leading point scorer for the Oswego State women's hockey team. As she leads the Lakers into the postseason, she remembers a time when playing hockey was not her destiny.
"My dad put me in skates and told me that I was never going to play hockey," Seamont said. "I remember him telling me like 'no way my little girl is playing hockey.' He actually wanted me to figure skate. But once I started skating, he decided to give me a stick."
And so it began. Seamont learned how to play under the tutelage of her father, uncle and cousins. She started playing in an all-boys league.
"My uncle coached a team that was all boys," Seamont said. "I played on that team for, maybe, five years."
Playing on that team gave Seamont the confidence to continue playing hockey as she grew older. She played hockey at her high school, St. Joseph-Scollard Hall, but in order for her to continue her hockey career, it meant giving up another sport.
"I ended up having to put basketball away so I could play for my travel team in Sudbury (Ontario)," Seamont said. "I always loved hockey and my dad loves it, so we decided to stick with it."
Seamont played under her father on the travel team, but did not receive the typical "coach's kid" treatment.
"It was rough. He was a tough coach," Seamont said. "I didn't get any special treatment. I didn't even play on the power play or anything like that. He was always hard on me, but obviously it paid off."
As her high school career was coming to a close, Seamont was considering sending out a recruitment video to prospective coaches and universities.
"In my hometown, all the hockey players who are going off to school have to make a recruitment video," Seamont said. "Chris Dawson, the guy who does all the editing and other stuff like that, usually sends them out to wherever you need."
Seamont was looking at Canadian universities, her search expanding as far as Ottawa, until a family incident slowed down her college search. She continued playing hockey and found herself playing in a big tournament in Ottawa, where Oswego State head coach Diane Dillon was watching.
Seamont met with Dillon after the game and subsequently decided not to send any of her videos out because she had already found her school: Oswego State.
"She (Dillon) had paper work ready, pamphlets, brochures and everything and told me 'we want you' so I knew I couldn't give up this opportunity," Seamont said. "I told my mom I had to do this."
Dillon is never short of compliments when it comes to Seamont, even saying that she could probably be playing for a Division I school if she was a bit taller. Seamont uses that as motivation.
"It's always been in my head. I always wish I was a little bit taller, a little bit stronger," Seamont said. "But ultimately, I'm happy that I am where I am. But it would've been nice if I had been a little bit bigger."
The summer of 2010 came and went and Seamont arrived on Oswego State's campus ready for the season. It was not the easiest transition for the freshman, who is a native of North Bay, Ontario.
"It was really difficult for me since I grew up and played with the same friends all through high school," Seamont said. "It wasn't easy adjusting to the environment. I had not even visited the school, so when my parents dropped me off it was the first time I had seen it."
Seamont was only 17-years-old when she entered her freshman year, which was an added challenge for her.
"It was a very big transition," Seamont said. "I cried with my mom on Skype for like three weeks. But the girls on the team were so welcoming. If I wasn't on the team, it probably would've been a lot harder to adjust."
Seamont was able to put all of her homesickness behind her when she realized that everyone she played with in high school was dealing with the same issues. Once she started playing, she found a mentor on the team in veteran Megan Howe and connected with fellow freshmen Olivia Boersen, Jocelyn St. Clair, Mady Paul and Chelsea Hunt.
As the season began, Seamont knew she had to earn her playing time. Despite being a freshman, she played on the same line with the team's top players,
including Howe. Seamont had a solid freshman year, compiling six total points. She scored two goals and tallied four assists in 25 games played. It was a great stepping-stone for Seamont, who was motivated to improve in her sophomore season.
"I trained a lot over the summer back in my hometown," Seamont said. "Every night, we were always doing something. Whether it was a 30 minute run, or hitting the weights, we always did something."
Seamont impressed Dillon with her conditioning and earned more playing time during her sophomore season. In 27 games played, she scored six goals and racked up 10 assists for 16 total points. The 10 assists were the second-most on the team and was the fifth-best single season mark in program history.
Seamont had her breakout performance in Cortland after scoring the game-winning goal in a 2-1 nail-biter. She also assisted on the team's first goal. Seamont was rewarded for her play and was named both the Oswego State Athlete of the Week and ECAC West Player of the Week.
Her play helped guide the Lakers to a No. 4 seed in the ECAC West playoffs. She scored a goal and added an assist in the team's 3-0 first round win against Neumann University. The team lost in the next round to second-ranked Plattsburgh.
After losing several key teammates from last season's team, Seamont knew she needed to step up for her team in her junior season.
"Losing as many girls going into this year as we did, we knew it would be hard," Seamont said. "(Captains) Liv (Boersen) and Joc (St. Clair) are our captains. They know how to pump up the team and they've earned their letters. But I know that my role on this team is to help lead this team and Coach (Dillion) always tells me that these girls will follow me into battle, so I try and do that as best as I can."
This season, Seamont has established herself as a star. The junior was named Oswego State Athlete of the Week after helping the Lakers win their first game of the season with a three-point performance. She scored two goals and added an assist in a 5-3 win against Utica College. Seamont also earned the award on Jan. 21, when she scored back-to-back game winning goals against Buffalo State.
Seamont helped lead the team to a 12-11-1 record with a team-high 24 points on nine goals and fifteen assists. Her 24 points tied a program record for points in a season, previously held by Mackenzie Lee. Seamont's 15 assists are the most in a single season in program history. Her record-breaking season helped guide the Lakers to a No. 3 seed in the ECAC West playoffs.
Seamont credits her more laid-back attitude to her success this season.
"Coming into this year, my mentality was just to have fun," Seamont said. "I told myself I was halfway through college, so I needed to take advantage of the rest of my time here. Stats never entered my mind. I'm just happy to be here and wanted to have some fun. "
Seamont hopes to continue her success next season in what will be her senior year. She has helped guide the Lakers to three consecutive playoff berths. What may very well have been a promising figure skating career for Melissa Seamont has turned into a phenomenal hockey career.