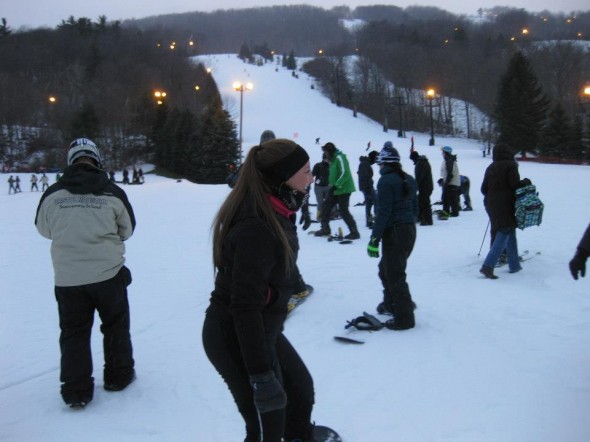 It has been an exciting week of intramural sports action, as the broomball and basketball tournaments continue, and while indoor soccer starts off its season.
In the indoor soccer campus recreation game of the week, it was The Muffin Men coming out on top against Team Jack in men's competitive action by a score of 6-2.
Hartley Ruch and Sean Brooks scored two goals apiece for The Muffin Men, who move to 2-0 halfway through their regular season schedule.
Brooks and Ruch each scored goals in the game's first five minutes to put The Muffin Men ahead 2-0. Tom Braun answered back for Team Jack with a goal of his own to cut the deficit to 2-1, but Team Jack would not get any closer the rest of the contest.
After Greg Stitt's goal, the score was 3-1 at the half. The Muffin Men again outscored their opponents 3-1 in the second half to pull away with a dominant 6-2 victory.
The Muffin Men will take on Honkies in their next matchup on March 5.
In Campus Recreation's basketball game of the week, it was Pippen Ain't Easy taking home a 55-47 victory in a hard-fought battle with Off Constantly.
In the full court format of the spring tournament, endurance was key for Pippen Ain't Easy, who played with only one sub in its victory.
Early on in the game, Pippen Ain't Easy had control 11-6, but Off Constantly mounted a 7-0 run to take 13-11 lead after Mike Burke's lay up midway through the first half.
Pippen Ain't Easy battled back to take a 22-19 lead at the half, but it was either team's game to take home in the second half.
Team captain Matt Stone came out firing for his team in the second half, trying to ensure that it would advance to the next round. Stone hit four three-pointers in a five minute span to open up the lead for Pippen Ain't Easy, and they would not look back from there.
After an Akeem Joseph three-pointer for Off Constantly cut the lead to two, Pippen Ain't Easy would maintain its composure to fend off the comeback and pull away in the game's final minutes.
Pippen Ain't Easy moved on to take on Jellyfish in the second round of the men's competitive tournament on Monday.
On Saturday, Campus Recreation put on its annual Ski and Snowboard Trip to Bristol Mountain Ski Resort in Canandaigua, New York.
The trip allowed students to participate in either skiing or snowboarding on the many different trails at Bristol Mountain that ranged from beginner (green) to expert (double black diamond) across 160 acres of skiable land.
Students who attended were provided with transportation via bus from the SUNY Oswego Campus Center to Bristol Mountain, and were also given a free lesson all of which was included in the participation fee of $40.
To read more on the trip to Bristol Mountain, check out the link to the article in the Weekly Sports Report at oswego.edu/campusrec.