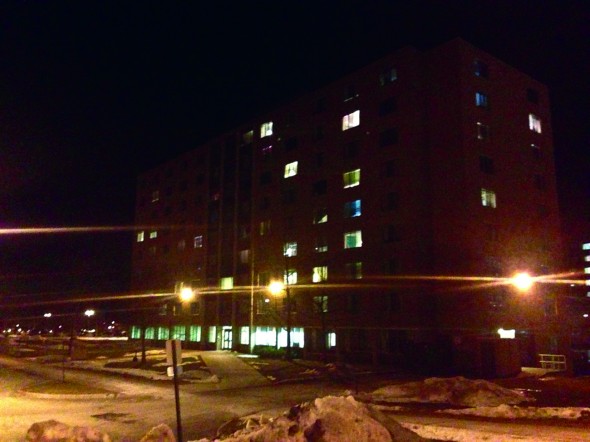 Funnelle Hall residents have been on high alert lately due to a streak of nighttime burglaries, in which people's electronics were taken from their bedsides while they slept.
According to the University Police blotter, eight residents of Funnelle Hall reported stolen possessions, mainly cell phones, in the early morning hours of Tuesday, Feb. 12. All of the incidents appear to have occurred between the hours of 3 a.m. and 6 a.m.
"I ended up falling asleep at about two, and woke up again at 6:45 a.m," senior Christina Grehlinger said. "I noticed that my phone was off the charger and thought maybe it had just fallen, but I was too tired to get up and look for it. I woke up at 10 a.m. to start looking for it again and was ripping my room apart. I asked to borrow someone's phone to call it, and it went straight to voicemail. That's when I got the feeling that it was stolen."
The cellphones taken were iPhone 5s, iPhone 4s, Samsung Galaxy S3s and a single Samsung Galaxy Note 2. Some people reported phones and multiple electronics, including cash, taken from them. One student had a wireless computer keyboard, wireless mouse, and $30 from his wallet stolen.
"My phone was at my feet, along with my friend's phone, which was also stolen," freshman Melinda Fatiga said. "They left my wallet that was sitting next to my phone and left my computer, although he or she moved it."
According to the U.P., all the burglaries occurred to individuals whose rooms were unlocked.
"Both my roommate and I had come home from a night out for my birthday," freshman, Kelly Sciaresa. "We usually lock our door all the time, must have just been one of those nights and forgot or didn't realize."
Sciaresa also said that both her and her roommate's phone cases were found in the parking lot the next day, but the phones themselves remain missing.
Although eight people reported their possessions stolen, it is clear that some rooms saw attempted thefts and some residents noticed suspicious behavior that night and a few nights after, according to students.
"I was just quietly sitting on my bed, on my phone, just doing nothing," sophomore, Cory Hartman said. "I must've forgotten to lock my door. It was about three in the morning when my door opened slightly. I thought the wind might've blown it open or I didn't shut it all the way because my window was open. But then I looked up and my door was shutting. I didn't think anything of it until I heard about robberies the next day."
Funnelle Hall does not usually experience burglaries of this magnitude. A smaller case occurred last semester on the upper floors. This time, virtually every floor was affected.
"I'm upset that this person, or people, feels the need to steal and have invaded so many students' privacy," said Funnelle Hall Director, Allison Thayer. "I truthfully don't understand why this is happening at this time. Maybe the person who is stealing the items knows that there is a strong community in Funnelle, especially since we've made it through the fall semester, which makes people feel safe, feel comfortable, therefore leaving their doors unlocked."
The issue of resident safety has surfaced during this affair, especially since the peoples' items were taken from their bedsides.
"I just wish the school would help us in some way," Grehlinger said. "I know they are doing all they can, but it's making me question my safety and my happiness. Someone came up to me in my sleep and took the phone off my bed. It makes me question everything."
The absence of cellphones is both a social and financial inconvenience. Sciaresa is an exchange student from Australia and relies on her phone to contact her family members back home.
Others believe the situation could have been worse.
"I've come to terms with the fact that it is just a phone and I'm glad I wasn't hurt," Fatiga said.
Since last week, the residents have been urged to lock their doors whenever they leave the room, no matter for the length of time. Thayer said that locked doors is the best way to prevent crimes like this.
"I might also suggest keeping items of value in a drawer or somewhere that isn't particularly easy to get to in a matter of seconds, which I'm assuming is the amount of time spent in a room to grab a phone and move on before anyone wakes up," Thayer said.
No judiciary actions have been taken at this time.
"There is an active investigation ongoing," said John Rossi, Assistant Chief of U.P.