An Oswego State student has contracted bacterial meningitis and, as of Wednesday, is recovering at SUNY Upstate Medical University in Syracuse. On Monday, it was announced that the Oswego County Health Department had begun investigating a suspected case of the rare type of meningitis.
The student is an 18-year-old female and is "responding well to treatment," according to Diane Oldenburg, senior public health educator at OCHD.
Elizabeth Burns, director of student health services at Mary Walker Health Center said through email that no other students have been diagnosed at this time.
According to a press release on Tuesday from the OCHD, "bacterial meningitis is a relatively rare but serious acute illness in which bacteria infect the covering of the brain and the spinal cord. A vaccine protects against the most common strains of meningococcal bacteria, and the student had been vaccinated. The New York State Public Health Law (Section 2167) requires college students to obtain the vaccine or sign a waiver."
According to a press release from OCHD, several close acquaintances were treated with preventative medication at Mary Walker Health Center.
"Approximately 20 students and medical staff [including ambulance staff] were treated," Oldenburg said.
Neither Mary Walker Health Center nor OCHD were allowed to share information regarding the on-campus residency of the student, both citing health privacy laws.
According to the Centers for Disease Control, bacterial meningitis is usually severe. KidsHealth.org defines meningitis as the inflammation of the meninges (the membranes that cover the brain and spinal cord). The CDC said that most people recover, although the illness can cause brain damage, hearing loss or learning disabilities. The CDC also reports that in the U.S. about 4,100 cases of bacterial meningitis occurred each year from 2003 to 2007, 500 of which resulted in deaths. The case fatality rate was 14.3 percent from 2006 to 2007, according to a study conducted by the CDC. The same study showed the median age of patients to be 41.9 years of age during the same years.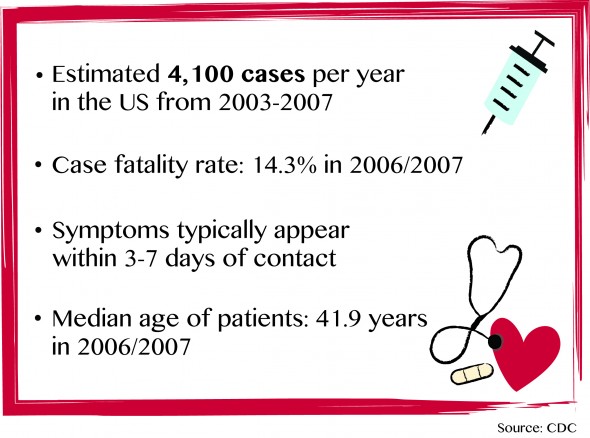 Burns said that there are a few different ways to contract bacterial meningitis.
"[Bacterial meningitis can be contracted] through direct contact with respiratory secretions such as an infected person's saliva," Burns said. Direct contact is considered oral contact through shared items like food, cigarettes, drinks and kissing according to Burns.
"Casual contact, such as attending a class together or living in the same residence hall, is not considered a concern," Burns said.
The CDC lists community setting as a risk factor.
"College students living in dormitories and military personnel are at increased risk for meningococcal meningitis," the page says.
Other factors listed are age, as the illness is more common in infants, though those of any age are at risk; medical conditions, in that those with weakened immune systems increase risk of contracting meningitis; and travel because those who have traveled to sub-Saharan Africa, as well as those who attend Mecca during pilgrimage times are at higher risk of exposure, according to the CDC.
Symptoms differ during the early onset of the illness and the latter portion of meningitis.
"Early symptoms include fever, severe headache, stiff neck, rash, nausea and extreme vomiting [and] extreme tiredness," Burns said. "Later symptoms [include] change in mental state i.e., confusion or disorientation."
According to the CDC, symptoms can appear quickly or over several days. Typically developing within three to seven days after first contact.
Anyone who believes they are exhibiting the symptoms of meningitis should seek treatment immediately. Burns said that Mary Walker is continuing to work with the OCHD in their investigation to identify individuals at risk or in need of medical treatment.
Mary Walker Health Center is open for walk-ins from 8:30 to 10:30 a.m. and by-appointment the rest of the day until they close at 4 p.m. They can be reached at 315-312-4100. OCHD is open from 8:30 a.m. to 4 p.m. and can be reached at 315-349-3547.