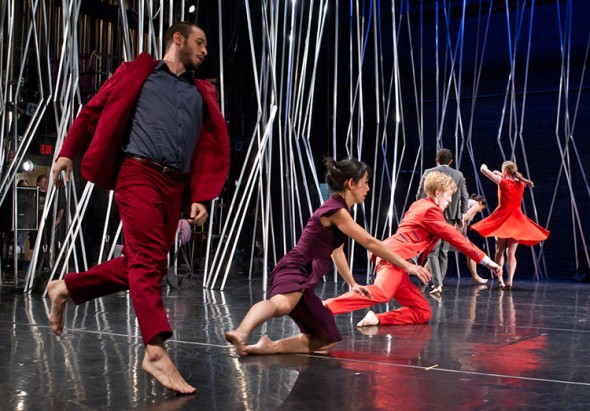 The exploration of space and energetic dance moves was the focus of the free movement workshop, sponsored by ARTSwego this past Wednesday, Feb. 13.
Taught by Brian Brooks of the Brian Brooks Moving Company, the small class took place in the Lee Hall dance studio and three dancers were treated to a smooth, yet upbeat, dance lesson.
Brooks spent the day in the city of Oswego; teaching a class for high school students, exploring downtown spots and later teaching the night class. Brooks said that the morning class is part of an initiative of the Oswego State education program and that it was different from the night workshop.
"The morning class was about specifically what you might refer to as aesthetic education," Brooks said. "It's about taking participants through my creative process of generating and creating dance work, observing and reflecting upon the process."
Brooks said that the night class was about technique and the morning class focused on the perception of dance. Brooks began the night class by introducing himself to the three attendants and was attentive during the class to their needs.
Stopping to discuss the personal life of Rihanna as her songs came on his iTunes was completely natural and made the students feel at ease. To high school student Bridget LaPage, the initial idea of the class was intimidating.
"I'm glad that there was not a lot of people but I feel like they missed out," LaPage said.
Her grandmother brought her to the class after her father convinced her by offering a new outfit.
LaPage said that she enjoyed the use of space during the class, something that Brooks is known for.
According to Brooks, other students usually describe his choreography as hard because he challenges the norm of dance by pushing the relationship of personal space and time. To the beat of Radiohead, Brooks taught the students to move with ease and trust their bodies.
Brooks started dancing at the age of 14 after a high school friend began to teach him dance moves. He quickly fell in love with dancing and, along with his friend, started a student run, produced and choreographed dance company. The company lasted for four years and was funded by the Massachusetts Cultural Council.
"We had a lot of support from the community, we were able to produce shows every year," Brooks said. "I would choreograph these full length productions."
The encouragement that he received is what lingers from his community in Hingham, Mass. He said it gave him a feeling of security and confidence.
"It was this idea that if you can imagine something, do it, that stayed with me, and 20 years later, I'm still making dances and trying to create new art," Brooks said.
Brooks believes that the reflective aspect of dance is valuable in any community and culture. He describes his performances as exciting and moving.
"I do push physicality and energy and effort and athleticism very far," said Brooks, who says the collisions his dancers have will force a reaction form viewers. "They will move you a little bit to the edge of your seat, your breath will get short or you'll gasp."
Brooks said that it is impossible for viewers to sit in their seat and space out because the dancers demand attention whether in their sharp movement or reactions to each other. His current dance company is made up of seven talented dancers, including him. With a smile on his face, Brooks explained that he draws from different styles and this works perfectly with his dancers because they all have different backgrounds and range of skills.
"They live in their performance in a way that invites one to watch, to want to experience what they're experiencing," Brooks said. "They are quite different from each other but each one has such a strength and identity, you want to know them."
Brian Brooks Moving Company is performing this upcoming Wednesday, Feb. 27 in the Waterman Theatre in Tyler Hall. They will be dancing "Big City," which promises to showcase the ideas of time, space and motion.
Brooks designs the sets used in his performances, something that he has being doing since high school.
"The visual aspect of my work is very important and is always built in conjunction with the choreography itself," Brooks said. "My work is a little bit like visual arts. It's almost like going to the museum except all the sculptures are moving around."
Brooks explained that his performances have underlying stories, but that they are not as evident as a theater production and that he is hugely influenced by visual arts. He visits museums and galleries to get inspired.
"I think we are passing ideas and movement to each other," said Brooks, who believes that he was inspired by the experiences in the night class and in Oswego. "The more I teach, the more inspired and the more ideas I get."
Brooks finished the night by asking the students for feedback and showing off his pictures of the famous Oswego sunset. He explained that he spent a long time watching the speed of the lake and that he loved interacting with the people of Oswego.
"I'm curious how this experience is going to feed into my work," Brooks said. "I'm very impacted by the places I visit."