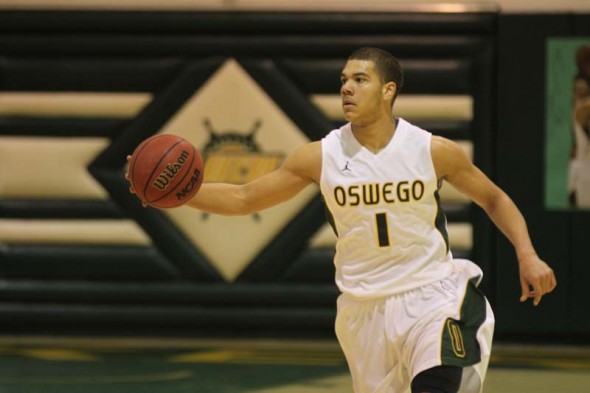 Transferring to a university as a junior can be difficult. One has to acclimate to new classes, professors and friends, which can be the toughest of all, since most students in one's age group have already established friend groups. For an athlete, it can be even harder, since one is joining a group of teammates that has already created a rapport with one another. But for Oswego State men's basketball junior Daniel Ross, the transition has been seamless.
"The team was really accepting of me being a transfer and it worked out easy," Ross said. "As for the coaches, I got a great vibe from all of them and it seemed that they really wanted me here."
Oswego State men's basketball head coach Jason Leone said that Ross fit into the team's program perfectly.
"Dan deserves a lot of credit for that," Leone said. "He is unselfish by nature, so there were no issues at all."
The guard/forward transferred from D-II Virginia Intermont College in Bristol, Va. Ross played on the men's basketball team his freshman year, but stopped playing in the middle of his sophomore year and decided to transfer. The Syracuse native originally attended Virginia Intermont because his brother was also at the school, but Ross felt it was not the right place for him.
"I had a great experience there, but I knew it wasn't where I wanted to be," Ross said. Ross wanted to return closer to home to be near his family. He knew Oswego State senior forward Chris Gilkes, who is also from Syracuse, from his high school days. Gilkes played a big role in bringing Ross to the Lakers. Ross was also looking for a good school for his major, business administration.
"I knew Chris Gilkes before from playing AAU together and he told me how good of a program it was," Ross said. "And I was recruited to come here out of high school and knew it was a good school with a great business department."
Ross began his Oswego State career coming off the bench in the Lakers' first regular season game at home against D'Youville College in the first round of the Max Ziel Men's Basketball Tournament on Nov. 16. He played 17 minutes, contributing nine points and seven rebounds. His breakout game came the next day in the tournament's finale against Morrisville State. Ross started the game and went 7-for-7 from the floor, recording a game-high 17 points with six rebounds in 24 minutes. Ross said he did not feel nervous right before his first career start for Oswego State.
"I felt ready to play, but no pressure to overdo anything that wasn't needed," Ross said. "I was just happy to help us win while playing well."
Unfortunately for Ross, his season would come to a halt quickly. In a game against SUNY Plattsburgh on Nov. 30 at Max Ziel Gymnasium, Ross dove on a loose ball and fractured his hands in two places, sidelining him for over a month. He did not return until Jan. 8, when the Lakers traveled to SUNY Oneonta, a game in which he recorded a single point in 19 minutes of playing time. The two games following his return against the Red Dragons, Ross came off the bench sparingly, tallying four and zero points in each contest. Ross was timid at first, but now he is fully healed and can play without constraint.
"At first I was hesitant to do the things I normally would do," Ross said. "But now I am able to play with no worries about reinjuring [my hand]."
Leone believes that Ross is back to playing 100 percent, and that there are no lingering issues from his hand injury.
"In the last week or two, he's really returned to the form he was at before that injury," Leone said. "He's really shown some mental and physical toughness battling through some setbacks this year in terms of physical injuries."
In his fourth game back, he returned to his prior form, playing 29 minutes off the bench and scoring 11 points with a season-high seven rebounds on Jan. 18 at home against The College at Brockport at home. After that game, Ross began a streak of eight consecutive games in which he was in the starting lineup, which he said helped build up his confidence.
"I am very comfortable with my play, and it means a lot to be able to start and play the minutes I play," Ross said. "The coaches' confidence in me gives me more confidence in my own game and helps me a lot while playing."
Leone said that Ross has deserved the amount of playing time he has received from the start.
"We didn't promise him anything in terms of playing time, so Dan has really earned everything he's gotten this year," Leone said.
During that streak of starts, Ross tied his season-high scoring mark with 17 in a home matchup against SUNY Cortland on Jan. 26. He played 38 minutes in that game, his most this season. Ross followed that up with two more games in double figures, scoring 10 at home versus SUNY Geneseo on Jan. 29 and 12 at Buffalo State on Feb. 1.
Ross started the next three games for Oswego State, but did not record more than nine points in any of them. He returned to double digits in the Lakers' most recent game against Oneonta at home on Tuesday. Ross tallied 12 points in a 79-75 win over the Red Dragons, which clinched a playoff spot for Oswego State.
Ross said his goals going forward are to do whatever he can to help the Lakers reach their ultimate team goal.
"My goal for the team is to win a conference championship and an NCAA National Championship," Ross said. "As for myself, I just want to do whatever I can to help my team win as many games as possible, whether it's scoring, playing defense or just the little things."
Leone said Ross has lived up to the expectations he had for him at the beginning of the season.
"We had the expectations for Dan that we have of all of our players," Leone said. "Be unselfish, be a really hard worker in the classroom and to be a good citizen in our campus community. Dan is certainly someone who has basketball as a big part of is identity, along with being a good person and a good student. He's been a very welcome addition to our program."