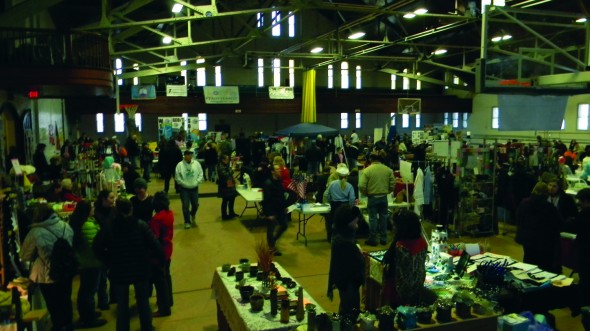 The cold wintry weather did not stop Drew Pascuzzi and other local residents of Oswego from enjoying the jam-packed events of this year's Warm Up Oswego Festival.
"It breaks up the cold weather and lets people get out of the house," Pascuzzi said. "It's a great event that lets you experience what's going on in the community. The YMCA did a good job of putting together a good festival that people in the community could enjoy."
From the 2K Trot Race to the Hot Scavenger Hunt, Warm Up Oswego provided a range of activities to suit everyone.
Even with many events being held outside, visitors of the festival braved the cold air.
"It just shows the enthusiasm of the community," Pascuzzi said.
The eighth annual event is planned by the Oswego YMCA. Associate Director of the Oswego YMCA Jackie Sheffield said that the festival provided several options for people to experience during the weekend and proceeds went to a good purpose.
"It has so many activities there's something for everyone here and it supports the Oswego Y," Sheffield said.
Sheffield said her favorite part of the festival has become the bonfire. Which kicked off the event last Friday night and lit up Oswego night sky while those in attendance gathered around trying to keep warm.
"Boy scouts sold hot dogs and hot chocolate, with that wicked wind that we had it was so cold, they were fantastic," Sheffield said.
While several events occurred outdoors, people were also able to go inside the Y Armory Gym to enjoy the dozens of vendors and events that blanketed the entire gym floor. The wide variety of vendors sold items ranging from handcrafted jewelry to colorful clothing to information on the restoration of the historic Oswego West Pierhead lighthouse.
The vendors from throughout the community said they were excited for event.
"Warm Up Oswego gets everyone out from being cooped up from all the snow," said Rick Canale from Canale's Restaurant. "We get chance to see all our friends, try some great food and have some fun."
There were enough vendors this year that the festival actually ran out of space.
"Everyone wants to be in," Sheffield said. "Like even with our vendors this year, we had vendors calling just this week [saying] 'I really want in, I really want in,' we were full, we were full a couple weeks ago."
Sheffield said that a lot of hard work goes behind planning the event.
"It's a volunteer led committee, so this committee that we gather and get together, everyone has a piece of it and there's so many different facets of it, whether it's the vending, sponsorship," Sheffield said. "All these things are coordinated by a volunteer and everyone has their own little piece."
Pascuzzi said his favorite part of this year's Warm Up Oswego was the Crazy Costume Sled Race that went down W. First St. from W. Mohawk St. to W. Oneida St.
"Midnight Sun was the Mystery Machine and they dressed up like Scooby-Doo characters," Pascuzzi said. "It was creative because they took a regular sled and made it look like a box. It looked like the Mystery Machine."
The festivities concluded with what Sheffield said was her other favorite event, the fireworks. "They are fantastic," Sheffield said. "They consistently, every year, get better."