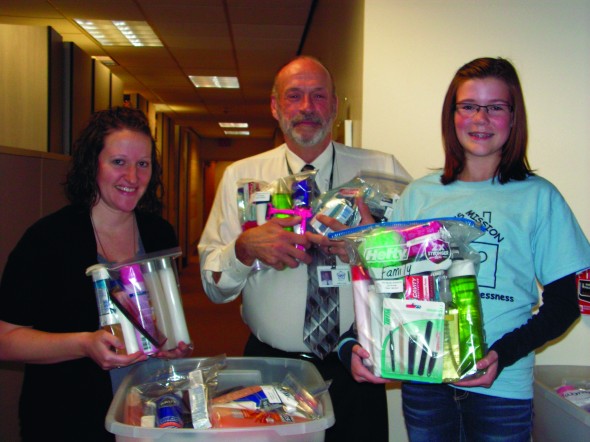 Many residents of Oswego County remain unaware of the large quantity of people within the community living without homes. Emily Bradshaw, 12, has become a young voice informing the public about the large number of homeless people in the neighborhoods of Oswego with her organization, Emily's Mission.
The main goal of the mission is to promote the establishment of a homeless shelter in Oswego County since it is without one. Bradshaw said that with Emily's Mission she wants to help the community better understand why people are homeless and the possibility that it can happen to any individual.
"I want people to know that homelessness can occur to anyone for so many different reasons, health issues, job loss, and abuse," Bradshaw said. "Many families in our area are only one paycheck away from being homeless. Most people don't realize what a crisis it is because they don't see people sleeping on the street corners but because of our climate the homeless tend not to do that. They might spend their day in the public library to stay warm and use their bathrooms to wash up. Some often sleep on the benches in the police department waiting room."
According to Melanie Trexler, the executive director of Oswego County's United Way and a committee member of the County of Oswego Advocates Combating Homelessness, it takes a lot of work and communication among the community to find the proper place to build a homeless shelter as well as to have an active, suitable staff to fund and maintain the shelter.
Every January, the members of COACH put together a point-in-time survey that calculates how many individuals are homeless within the county of Oswego on that specific day of the year. In January 2011, the total summed up to over 170 people without homes.
"It's a great idea to get a shelter to try and keep families together. We just really need to identify the support staff of the facility and what our budget is," Trexler said. "Emily did a great job in finally creating more community awareness so that these things have a chance of happening."
Bradshaw originally came up with her plan to start her own mission after a conversation with her grandmother, who works for the Department of Social Services.
"She was telling me that Oswego County does not have a homeless shelter. I was very upset about that. I decided to take on that project and do something about it," Brawshaw said. "Knowing there are homeless people out there with no place to go, just breaks my heart."
Emily's Mission started out in mid-September when she spoke at the Oswego County Legislature about the need for a shelter in Oswego. Since then, Bradshaw has met with Oswego City School District Superintendent William Crist to discuss the positive impact a shelter would have on school children. She has spoken at the Children's Board of Oswego meeting and actively worked with Gregg Heffner, the commissioner of the Department of Social Services and Diane Cooper-Currier, the director of Oswego County Opportunities. Bradshaw is also the youngest member of COACH.
The young sixth grader has done all she can to make her mission thrive. Bradshaw devotes a lot of time to Emily's Mission, even doing things on the side such as making personal care bags full of donated items from non-perishable foods to toothbrushes given by local dentists. She even gives them out personally to homeless people she sees on the street.
"One week when I was out shopping, I saw a homeless man. I made my parents stop so that I could bring him a personal care bag. I also gave him a hat and scarf," Bradshaw said. "He was so scared when my dad and I first approached him. My dad told him we wanted to help him. After we gave him the bag he was so thankful, he couldn't stop thanking me."
Though Bradshaw has done a lot to try to enlighten the community to the value of creating a homeless shelter, she has also received some backlash from folks who disagree with her plans and concepts on homelessness.
"Not everything has been roses for Emily on this mission. It is not easy changing some people's perspective of the homeless: from drunken bums who are no good, to showing a human being who is in a dark place some compassion and respect," said Jennifer Bradshaw, Emily's mother. "She is a 12-year-old little girl with a heart bigger than she even realizes and to be 'slapped in the face' with someone's bias generalization of the homeless was very hard for her to understand. She had to accept that people have a right to their own opinion even if it is an ignorant one."
Emily's Mission has received donations from a range of supporters, including BJ's Wholesale Club, Quality Inn and Suites, Oswego Middle School and Pathfinder Bank. Bradshaw recently made over 100 personal care bags to be given out on Thanksgiving at the Salvation Army. In her efforts to make a difference, Bradshaw has participated in Relay for Life and raises money for the American Cancer Society. Two years ago, she even shaved her head bald for St. Baldrick's day, to raise money for childhood cancer research
As Jennifer Bradshaw said, "Emily reminds all of us everyday to be a better person than we were yesterday."