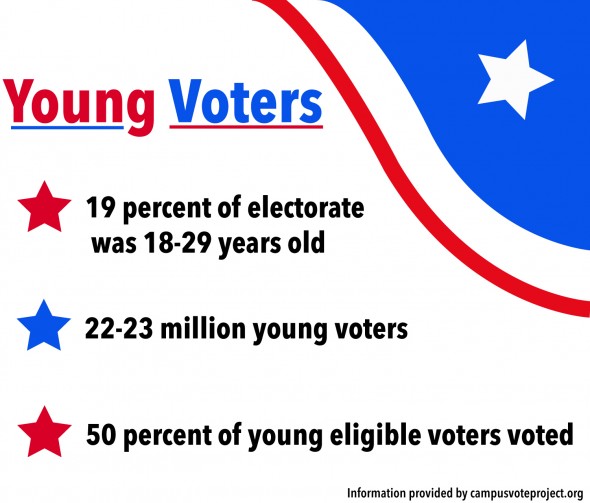 The 2012 election continued the trend of increased youth participation.
Nationally, young voters (18-29 years old) made up 19 percent of those that turned out to vote. There were approximately 22 million young voters, according to campusvoteproject.org, a project by the Fair Elections Legal Network.
"This is on par with 2008. In total, of eligible voters between 18-29 years old, 50 percent voted," said network Communications and Policy Manager, Joshua Spaulding.
In New York state, there were an estimated 3,173,000 18 to 29-year-old citizens eligible to vote in 2012, according to Civic Learning and Engagement. In 2008, 47.3 percent of young registered voters voted in the elections and 40.96 percent voted in 1996. The exact youth turnout numbers for 2012 are still unknown at this time.
There has been an abundance of student involvement in the 2012 elections in many different forms at Oswego State. The department of Civic Engagement heavily promoted "Rock the Vote" this year, a nonpartisan nonprofit organization aimed at persuading young people to participate in politics.
According to Civic Engagement, over 1,300 students either registered and or filled out an application for an absentee ballot. This is an increase from between 600 and 700 applications in 2008.
"This has been a vast improvement in political engagement on our campus. We had a lot of help from a number of organizations to get the word out and Civic Engagement did a lot of footwork to make sure we were visible throughout the semester," said Jon Zella, graduate assistant at Civic Engagement.
Zella said that these are hard numbers to understand because of the nature of how they are recorded. Counting is difficult when hundreds of forms are involved. In addition, this merely represents the number who filled out registration forms.
"We can't measure based on the number of people who registered, we need to measure based on how many people actually get involved and care about what they are voting for," said Andrew Metz, president of the College Republicans at Oswego State.
The Fair Elections Legal Network stressed that registration is a prime method to get college students active in politics, and that different programs now exist that help and promote students to register.
According to CIRCLE, well over a quarter of college students reported in 2010 that they did not register to vote because they did
not know where or how to register or they missed the deadline.
"A lot of times people will have an interest, but don't know where to go to get information. Having a presence on campus that provides what students need to get informed is extremely beneficial," said Francisco Perez, president of the Political Science Club at Oswego. Perez added that people generally tend to pay more attention during presidential election cycles.
Along with "Rock the Vote," Oswego State has multiple groups and organizations on campus that involve students in government of all sorts, such as the Political Science Club, Students In Free Enterprise and the College Democrats and College Republicans, among others.
Perez says that along with the "Rock the Vote" campaign, the Political Science club helped put on events earlier in the semester, one of which was a debate on a variety of issues with only student participants.
"We also hold meetings throughout the school year giving students the ability to learn and discuss information on particular issues or events," Perez said. "We try to present information in as much of an unbiased way as possible, so that students can be informed and make their own opinions and decisions."
It is evident that student voters are increasing both in number and importance. According to CIRCLE, the youth vote helped President Barack Obama win reelection. If Mitt Romney had won half the youth vote in this year's battleground states of Ohio, Virginia, Pennsylvania and Florida, or if young voters didn't vote at all, the former governor would have won those states and, consequently, the election.
Francisco Perez insists that one of the purposes of college is to make students into critical thinkers.
"Being informed of what's going on in politics is a huge part of this. Whether people see it or not, politics plays a role in their lives," Perez said. "Understanding what is happening in the world is integral to being an educated adult, being engaged in the system and aware of politics at an earlier age is helpful to doing things later in life."