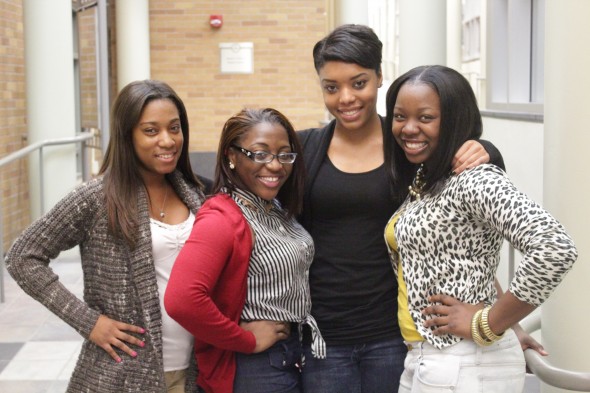 Of the many talented groups on Oswego State's campus, one all-woman group is worthy of note. Kinetic Voices, a singing quintet made up of DeNecia George, Bilikiz "Billy" Adebayo, Tierra Beckles, Kiana St. Louis and Vernessa Defoe, started out as a celebration of the beautiful voices of a group of good friends, but is now becoming a serious musical sensation.
"It's not just songs," said Kiana St. Louis, a 19-year-old sophomore, "each song we picked, it means something specifically to us."
Kinetic Voices does not only choose songs that suit the tenor of their voices, but also ones that they feel strongly enough about to perform with passion. "Stand Up For Love" by Destiny's Child and "I'll Be There For You" by Tiffany Evans are two of their favorite choices.
Kinetic Voices was formed by chance at the birthday party of a mutual friend of the five young singers.
"It was at Ebony's birthday party, we were all in the kitchen," 18-year-old freshman Denecia George said. "We heard Billy and Kiana can sing, Tierra and I got roped into it. We got into a circle and we sang."
Later St. Louis contacted George with a "brilliant idea": "Let's sing together."
"It was so casual," Adebayo said, "We were all in the kitchen, excited and singing."
Their friendship was what led them to the circumstances they found themselves in and their talent was what led them to become not only friends, but groupmates as well.
Luckily for them, the five young women chose to form their singing group just one week before the Two and a Half Talent Show. Back then, they were called "Voices Coming Together Between Diversities," but they've since changed their name to something more memorable and cleverly succinct – a name that exemplifies the nature of their singing group.
"Because we are individually so talented, I want not just Oswego to witness that, but for everyone else too," St. Louis said.
According to St. Louis, one of their aims is to, "show that Oswego has so much more to offer. We are a group of collective students who, outside of our majors and career goals, we have other things that bring us together. I want Central New York to know who Kinetic Voices are."