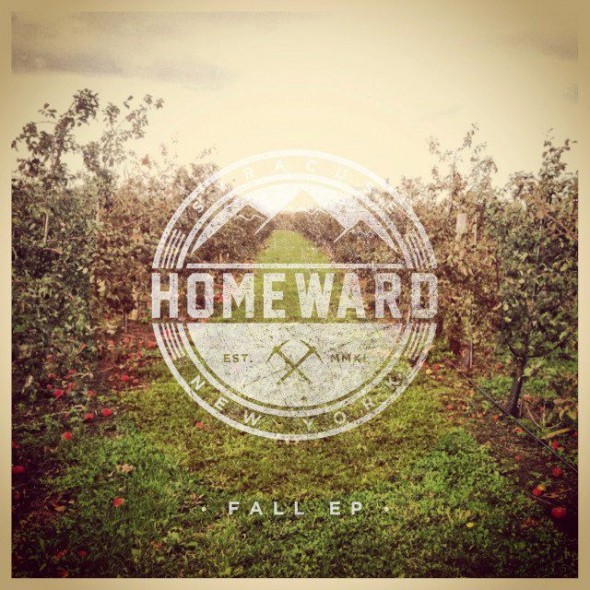 If a band wants to be successful in the music industry, they need to have that certain sound. There is a rare element in music that can catch the listener's attention, get stuck in your head and find a way to relate to your life. Syracuse punk band Homeward has this sound.
Homeward released their debut EP on Tuesday, November 27. The band, composed of vocalist Eric Bechard, guitarists Tim Hall and Ryan Dugan, bassist Rob Button and drummer Alec LaBounty has been gaining momentum in the Syracuse music scene, opening for national touring acts such as Never Shout Never and Man Overboard.
Homeward member Ryan Dugan said that they are thrilled to be a part of the Syracuse music scene.
"It seems as though all the bands are friends with people in all the other bands and everyone supports each other," Dugan said.
"It's a brother system that everyone has within the Syracuse scene," he added.
Bechard also expressed how proud he is with the outcome of the EP.
"I'm extremely impressed because it's a home recorded album," Bechard said.
The home recorded sound gives the band a raw, natural sound that makes them stand out of the vast variety of overproduced music that is flooding the internet and the airwaves.
The five-track EP talks about difficult experiences throughout members of the bands' lives and moments of struggle with the people and the world around them. Even with how personal the stories behind the songs are, Bechard and company wanted to make sure listeners could relate, but find their own meaning.
"People will cling too much to what they are hearing rather than what they feel," Bechard said.
Dugan feels the album is very relatable to the every-day-person growing up with struggles.
"Everybody has had a friend that betrayed them, everyone has had a family member that let them down," Dugan said. "It's a nice therapeutic release and a relief to know you are not the only one. It lets you know someone has been through it before and it helps you get through it."
The EP opens up "Leaf Piles" where Bechard poetically sums up the whole album before it even begins. The angst and struggle of life's difficult situations can be heard in the angst of Bechard's voice screaming at the top of his lungs, "I just don't feel like I'm at home."
"I moved out to Syracuse and realized I will never find a place comfortable enough to call home," Bechard said. "I need to keep moving and I decided to write about that."
"Leaf Piles" leads right into "The Bends" where Bechard sings about a traumatic car accident he was in and how it changed the lives of his friends and him.
"It's about a car accident I was in a few years back with a couple of friends and I watched one of my friends fall apart after it," Bechard said. At the end of the song Bechard sings the line "there's no love left in his chest," referring to his friend's depression since the accident.
The next two songs "Messenger" and "Gravel" are the first releases Homeward ever came out with and are anchors to the EP, keeping the listener from drifting off. The messages that the songs carry are very deep, but simple: "You are what you are afraid of and what you fear is what you are."
Bechard said "Gravel" is about getting an outside view of yourself and what others see from your struggles.
"It's looking at yourself through someone's eyes and telling they have battle scars, but it doesn't stop them," Bechard said.
The acoustic guitar interlude in between "Gravel" and the last track truly sounds like fall. The chords capture the sound of the change that nature goes through, as a metaphor for the changes that people go through in their lives.
The interlude goes right into the last track "Mood Swings." "Mood Swings" talks about the different emotions that people feel comparing them to the red and green lights of a stop sign. This track holds one of the stronger lines of the album: "You're turning breeze into tornadoes, I'm watching all the chaos, and I'm just used to it." "Mood Swings" sums up the EP perfectly with the song's end sounding incomplete, leaving the listener relating to the heavy feeling stress and anxiety leave in your chest.
My favorite part of the EP was that the songs sounded better when listened to in sequence of the EP. Many artists today shy away from the artistic license one can have in making an album more than just a collection of songs.
The band is in the works of putting together a tour that will span a good portion of the Northeast from Ohio to Boston. They are enjoyable to watch live because of their love for the music.
"Music is all about emotion and having fun so we just want to play out, give the public good music and tour with awesome bands," Bechard said.
Homeward asks fans to have an open mind when experiencing all the different genres a local music scene has to offer.
"Support local music and don't judge a certain genre," Bechard said. "I think what we try to do most is not look down on people doing what they love."
As for Homeward, they are just rolling with whatever punches the music industry throws at them.
"Like every other band, we are trying to get our name out there, tour and try to get connections," Dugan said. "We are just taking it day by day, trying to get ourselves out there."