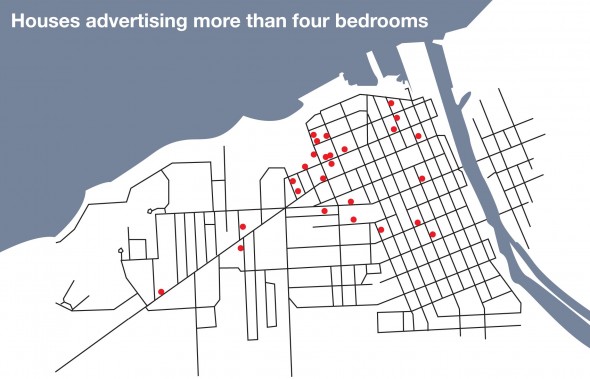 With stricter enforcement of the Oswego city zoning laws expected, multiple student rental homes are in danger of being cited. Under city zoning law, all student rental properties with more than four unrelated residents are in violation.
In 2006, the Oswego City Common Council passed a provision to the zoning codes stating that no more than four unrelated occupants can share a single rental dwelling. The list of possible off-campus houses provided by the Oswego State Student Association, however, shows that, as of this fall, there are 28 different rental properties that offer more than four bedrooms.
Oswego City Engineer Tony Leotta said that up until this year the city has had a "liberal attitude" toward the enforcement of the zoning laws.
"We haven't had the manpower to keep the laws enforced," Leotta said. "This department regulates much more than just the zoning codes."
The Engineering and Zoning Department of the city of Oswego has been headed by Leotta for 43 years. Zoning administration and enforcement is one of 19 duties of the department, as listed on the Oswego city website. Other duties include High Dam hydroelectric management, fence applications, planning board applications, flood plain information, municipal project administration and managing sanitary sewers along with storm water sewers. Leotta said, given the multitude of the tasks assigned to department, the zoning law enforcement was at times overlooked.
Last March, the Oswego Common Council voted 6-1-1 in favor of reinstating a Zoning Enforcement Officer position. Leotta said the measure was pushed by the Oswego Neighborhood Quality of Life Committee as a way to have the codes more strictly enforced.
Leotta said he could not give an exact date the enforcement officer will be hired, but that the city is close to making a decision.
"Once the new officer is hired, stricter enforcement can be expected," Leotta said.
Leotta said that many rental dwellings containing more than four residents are split into different units, which would comply with the city code. He added that any rental dwelling not split into the separate units but having over four unrelated occupants is in violation. Rental dwellings that would be considered as not containing separate units are ones in which four or more residents share a kitchen, bathroom and main room.
Leotta added that the reason the provision was originally passed was because rental properties with too many residents created parking and garbage issues.
Oswego State junior Noah Rougeux said he currently lives in rental house with four other students and was not told by his landlord of any possible violations.
"We looked with multiple landlords who showed us five bedroom houses," Rougeux said. "No one really said we would have a problem."
Leotta said that most landlords are aware of the coming changes in enforcement and he has not heard any complaints.
Matt Brancato, who owns 23 different properties in the Oswego area, said he has always kept up with city zoning codes and will not have any problems if the laws become more strictly enforced.
"I've gotten several calls from six or seven bedroom people, and obviously I've had to turn them away," Brancato said.
Brancato added that he is concerned for the effects of the stricter enforcement on students who are tenants of other landlords.
"What do you think it would be like, if you're living in a house with five or six people, and then all the sudden someone turns you in and the city acts on it and someone has to move out in the middle of the semester, or finals week," Brancato said.
If a property is ruled to be in violation of the zoning laws, the property owner has 30 days to either bring the property into compliance, or file an appeal to the Zoning Board of Appeals. If the property owner does not do this, the case goes to Oswego City Court, where the property owner could potentially be fined.
Leotta said it is possible a resident would be forced to leave a unit found to be in violation, but other possibilities would be explored as well.
"Our goal is not to punish, but to bring each building into compliance," Leotta said.
Leotta said he hopes the zoning provisions will help promote better relations between students and the community.
"If student live respectfully within a neighborhood there is no problem," he said.