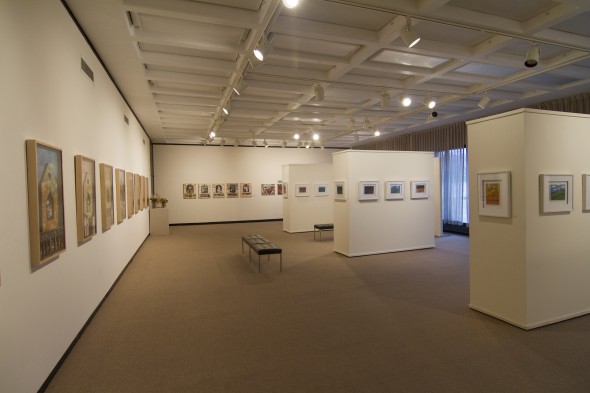 Located in Tyler Hall is an art exhibit titled "Records of Captivity," by Chilean artist Mariana Najamanovich. Najamanovich received her bachelor of fine arts at the University Finis Terrae in Santiago de Chile as well as a Masters degree in Visual Arts at the University of Barcelona in Spain. While studying and working on her dissertation in Spain, Najamanovich viewed Oswego State professor Juan Perdoguero's art exhibit. She said she liked his work and wanted to use it for one of the chapters in her dissertation. Perdoguero and Najamanovich have been in contact since.
Perdoguero liked Najamanovich's work and also appreciated that her art had an interdisciplinary aspect to it, involving scientific and biological features. According to Perdoguero, this helps to attract viewers outside of the art field.
Perdoguero presented his proposal to have Najamanovich bring her exhibit to Oswego State before the exhibition committee. The committee is comprised of art students, the Tyler gallery director, Department of Visual Arts faculty as well as other faculty members from various departments across campus.
Perdoguero said that, when selecting an artist, the committee looks for quality work and accomplished artists.
Toward the end of the semester, the gallery opens with the work of undergraduate students that will be graduating, as well as a separate show in which an outside participant is chosen to select the best student artwork for the show.
Perdoguero currated the show. Perdoguero walked through the exhibit, pointing out details and artist intentions for each section of artwork. The left wall of the gallery included some of the many pencil sketches of chimpanzees.
While in Spain, Najamanovich focused on chimpanzees that were mistreated and held in captivity. Her use of space in the pictures showed how humans are impeding on the space and privacy of the chimps. The black and white shading illuminated this effect.
"In different contexts of our geography, this (animals' space) has been occupied and violated by man, displacing the rest of the species from their respective habitats," according to a statement made by Najamanovich on the Oswego State website.
One of Najamanovich's largest paintings was made to look like a photo negative. She uses light inversely to create a surreal life for the chimpanzees because they are alone and isolated. The photo shows the habitat in which the animals live, but upon closer examination, the nets and trees become apparent. This human-made environment is the essence of Najamanovich's statement in this series of artwork.
The back wall of the gallery was covered with pictures done in graphite. Unlike the sketches of the chimpanzees on the left wall, these pictures were very eloquently crafted and clearly drawn over a long period of time. The pictures depict beautiful landscapes and mountain ranges. The only completely white parts of the picture are the humans, drawn to be small and fragile-looking. This is to show a comparison of people and their environment.
One drawing depicted a beautiful body of water. The entire picture was shaded, except for a tiny colorless rowboat with a person in it.
Najamanovich also has several picture of taxidermic animals. She had many pictures of animals stuffed or being stuffed by taxidermists. Cristobal Leon, art critique reviews Najamanovich's work.
"Animals appear: chimpanzees to be exact. The chimpanzees try to say something to her. Then, mummified animals appear," Cristobal Leon, an art critic said of Najamanovich's work. "This is where the terror begins. Who's alive and who's dead is no longer clear."
The pictures of the taxidermic animals are detailed and created to call to the attention of viewers that they must not treat our animals like toys or objects.
Additionally, Najamanovich has a very strong opinion about zoos. She feels that a zoo is a place of confinement where humans mirror a natural habitat and torture the animals within it. Najamanovich worked at both the Barcelona Zoo as well as the national zoo of Chile. Najamanovich did some of her sketches of chimpanzees while at the zoo in Barcelona.
One of the last paintings in the gallery was of a woman in the zoo looking out behind a glass, well into what looks like a natural forest environment. This picture was quite scary. It is meant to remind us that humans cannot and should not attempt to replicate nature.