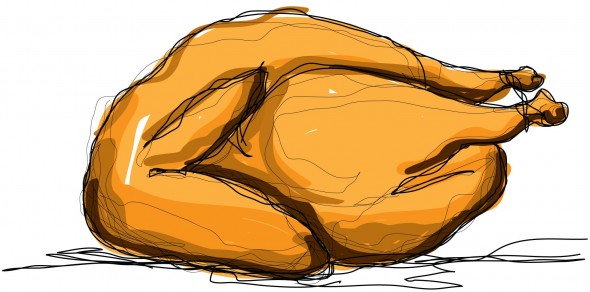 There is always something about holidays that gets me excited. Christmas, Easter, Independence Day; who am I kidding, I'll thank a tree on Arbor Day and I will be the first one to put up the aluminum pole for Festivus. And in less than a week, it will be one of my favorite holidays: Thanksgiving.
I may like all holidays, but I like certain holidays more than others. It would be easy to point out the fact that Thanksgiving comes along with a short, albeit much needed, hiatus from the rigors of everyday schedules. There's no denying that a few days off will brighten even the darkest of moods.
But that's not the reason why. It is something more complicated, yet more primal than that.
It is the food. It is the one holiday of the year when the menu is largely determined before the cooking even begins. It's the reason why supermarkets stock the shelves with cranberry sauce and varieties of stuffing that can span an aisle. The centerpiece of the meal is celebrated for one day a year, and then seemingly only found between two slices of bread for the other 364. There is a reason Tofurkey exists, after all.
All turkey-flavored, meat-textured vegetable-based proteins aside, the uniformity of it all is unique. Roast a turkey, slice a log of cranberry jelly, mash some potatoes and pour gravy over the whole lot in the middle of July and you will receive more than a few weird looks. Granted, a hot summer day is admittedly not the best time for a hearty feast, but the same stares would be garnered in February or March as well. Why are you making Thanksgiving so early?
This is not to say that everyone in the world will open a box of potato flakes, a red box of dried flavored bread cubes, served alongside a bird that once resembled a turkey, but now conjures up images of the dry Sahara with the first bite that no amount of jarred gravy can undo. Actually, nobody should do that. That does not sound good at all. But that combination, these often once-a-year food choices; the fight over cranberry sauce, as if people forget that it is available year-round for a mere dollar or so; that is Thanksgiving.
This time next week, I will hopefully be fully recovered from gorging myself with food and drink, though the not-so-dreaded "food hangover" is always a possibility. Unlike poor Ralphie, there will be plenty of turkey sandwiches, turkey salad, turkey gravy, turkey hash, turkey a la King and gallons of turkey soup. After a few days, I'll be sick of the food, but not the holiday.
I have my "Three Fs" of Thanksgiving: Food, Family and Football. To date, this is the only holiday I have a lame acronym for. If that isn't proof that it is one of my favorites, I don't know what does. I will wake up early Thursday morning and go to work until 12:30 p.m., then my attention will be divided between balancing all the dished cooking in the kitchen and kick off the first football game of the day. And then I will eat, drink and watch more football. Later in the night, once all the commotion has died down, the Patriots kick off. Perfect.