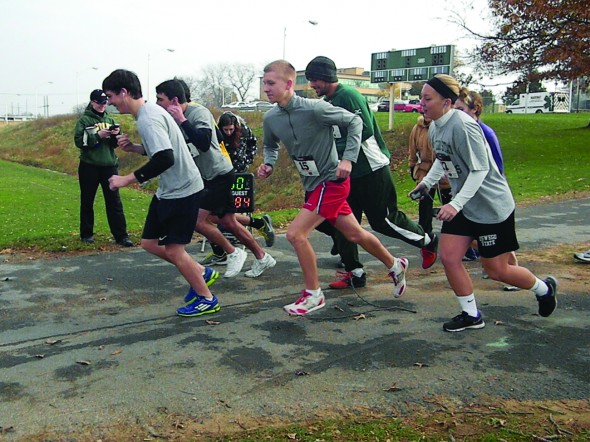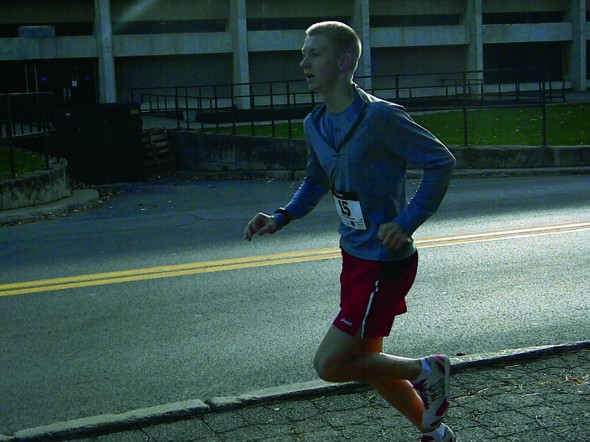 On a sunny autumn Saturday afternoon, runners lined up in front of Lee Hall waiting for the first Turkey Trot 5k to take place on campus to commence. When the race started, runners took off on a course that stretched along the lakeside of campus, all the way past Rudy's and ended back in front of Lee Hall.
The 5k race was put on by Graduate Assistant Danielle Meyer and Campus Recreation to help raise money for those who have trouble putting food on the table for Thanksgiving.
"I really wanted to do some kind of campus run to get people involved in helping out for Thanksgiving," Meyer said. "There are a lot of families in our local community that don't have money for Thanksgiving food."
Participants in Saturday's race paid $3 for entry to the race or donated some sort of Thanksgiving food. Meyer and Campus Recreation are giving all the proceeds and donations to the Oswego Human Concern Center who will then use the proceeds and donations to help those who can't afford the food costs of the holiday season.
"I'm really excited to go down to the Humans Concerns Center and give them all of our donations," Meyer said. "[They] marked it down on their calendars that they'll be getting proceeds from us."
The Turkey Trot 5k had a long list of prizes to try to entice students to come out and participate. The categories were first through third for men and first through third for women. First place received $50 to their Plus Plan with second and third place both receiving $25 to their Plus Plan. All three places received t-shirts as well for placing. All runners had their names put in a raffle to win prizes, some of which were gift certificates for Road I.D. and Pizza Hut.
Meyer did not see the turnout for the race that she was hoping for with only 20 people pre-registering online before the race. Even though the turnout was not as great as she expected, she said she does see a few reasons why the turnout was not so big.
"We were hoping for a better turnout, but I'm thinking because it's a holiday weekend people may have gone home," Meyer said. "This was an added program, this wasn't created back in August."
Campus Recreation scheduled various events and runs throughout the year. At the beginning of October they held The Great Pumpkin Run 5k. All the proceeds for the race went to Susan G. Komen for the Cure to help find a cure for breast cancer.
Meyer feels events like this can help campus become more connected with issues that are going on in the local area surrounding the college.
"I think it can bring our campus together and really help out the community," Meyer said.
The Turkey Trot 5k run is over and done with for this year, but may have found itself a home on the Oswego State campus for years to come.
"I'm hoping that we do this again next year and for a greater turn out," Meyer said.