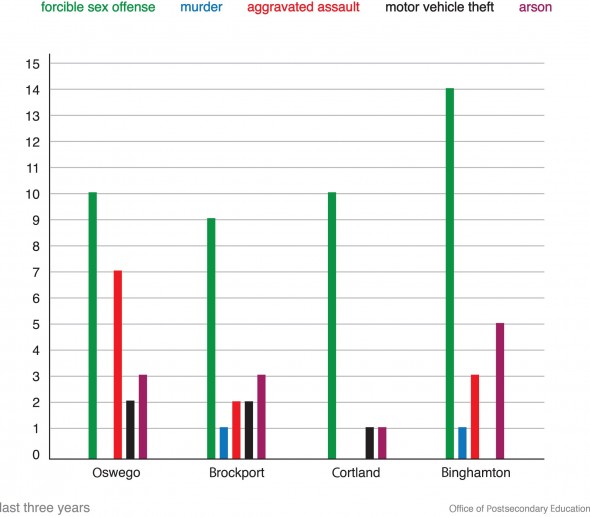 Parents tend to worry about their children when they go out on weekends, especially while they are away at college. Becky Kogut's worry about her 18-year-old freshman daughter, Alexandra Kogut, is exactly what led College at Brockport University Police to discover the girl's slain body in her dorm room the morning of Sept. 29.
Kogut's 21-year-old boyfriend and student at Utica College, Clayton Whittemore is accused of her murder. Whittemore, was planning on visiting his girlfriend for the weekend. Both graduated from New Hartford High School and had been dating for two years. Whittemore was an exceptional hockey player, while Kogut was a star swimmer for the New Hartford Spartans.
In the days leading up to Whittemore's visit to Brockport, the couple was tweeting back and forth about their excitement of seeing each other. They joked about what kind of snacks Kogut was going to have and what they had planned to do together, according to the Democrat and Chronicle. However, about three hours before police believe she died, Kogut tweeted a slightly eerie message, "should've known." According to the Democrat and Chronicle, sources close to the pair believed they were happy and content in their relationship; there were no indications that the couple was having problems.
Becky Kogut tried to contact her daughter for hours. After not hearing from her, Kogut called the campus police to express her concern. Police officers found Kogut's beaten body in her room in McLean Hall around 3 a.m. According the Democrat and Chronicle, Whittemore was apprehended at about 4 a.m. at a rest stop in Dewitt, about 100 miles from Brockport.
Whittemore informed police that he and Kogut were at a friend's house drinking the night of the murder. On their way back to campus, he received a citation for an open container. The couple returned to Kogut's room where they began to argue. Whittemore said that his girlfriend kept pushing him around when he "snapped," and he began to punch her. Police say Whittemore beat her with his fists and a curling iron until she died.
Whittemore made an appearance in court on Oct. 25. Kogut's family, adorned in purple for domestic violence awareness, appeared emotional when he entered the courtroom, according to the Democrat and Chronicle. Although police say he initially confessed to the murder, Whittemore pleaded not guilty to the second-degree murder charges against him.
"I just can't believe this happened," Brockport sophomore Brooke Armstrong said. "It is a terrible loss for the school."
The reaction to Kogut's death has reached Oswego State students and parents as well.
"I don't get it, it doesn't sit well with me," said Maria Delgado, mother of four college students, including Oswego State sophomore Taylor Delgado. "If they were in such a stable relationship, how did he just snap and lose his cool? I have a feeling something else had been going on and just no one caught on."
Cindy Trait, mother of College at Brockport junior Sean Trait, was worried for her son's safety after hearing about the murder. Trait said her son received the email Saturday.
"Unfortunately we did not hear about it until Sunday evening, after everything was pretty much said and done," Trait said. "When we asked Sean if campus had informed the students, he told us that campus was still on lockdown the next day."
"This is extremely concerning to me," Delgado said. "Since I'm so far away from all of my kids I don't always hear about things. I would hope I was close enough with my children that they would call me immediately. I would be there in a heartbeat."
Many Oswego students and faculty members wore purple in the days following her death. The case was discussed among students and staff alike, in the dining hall, in classes, between friends. Many people were in shock after the tragedy.
"It made me nervous and scared," Oswego State freshman Shannon Hanson said. "It made me especially nervous for my roommate. She had just started hanging out with a new, strange boy neither of us knew very well. What if that happened to her? What if that happened to me?"
"The death was extremely unsettling," Oswego State sophomore Taylor Delgado said. "Alexandra was just like me. I've never worried that my boyfriend would do something like that. She was in a relationship with a guy she thought that she knew and trusted. He betrayed her."
The College at Brockport set up a hotline for parents to call with questions or concerns after Kogut's death. Colleen Burke of the Oswego State Admissions Office said that the office did not receive an increase in calls about safety after the death.
"Sometimes we have parents that call about safety," Burke said. "However, most of the time they're just calling about applications or living situations. We have a lot of parents who call about the distance between student's hometowns and Oswego. The number of calls about safety did not even increase after the girl's death."
Generally, Oswego State has been considered a fairly safe SUNY campus. According to the Office of Postsecondary Education, Oswego State has not seen any murders in the last three years. This is comparable to SUNY Cortland and College at Brockport before Kogut's death. SUNY Binghamton reported one murder in 2009.
In the last three years Oswego State and SUNY Cortland both had 10 reported cases of forcible sex offences, where the College at Brockport had nine and SUNY Binghamton had 14. Seven aggravated assaults were reported in Oswego State while there were three in SUNY Binghamton, two in the College of Brockport, and none at SUNY Cortland.
While there were 85 burglaries reported in Oswego State, there were 45 in SUNY Cortland, 39 in Binghamton and 21 in Brockport. One robbery was reported at Oswego State; however, none were reported at the other three schools. There were two motor vehicle thefts at Oswego State, and the College at Brockport, one at SUNY Cortland, and none at SUNY Binghamton.
Five cases of arson were reported in SUNY Binghamton, three in Oswego State and at the College at Brockport and one in SUNY Cortland. This information is released each year according to the Jeanne Clery Act, which states that colleges and universities must release information about crime on or around each campus.
In 2011 in New York state there were 77,490 violent crimes reported, 744 of which include murder. Across the United States, there were 1,203,564 violent crimes reported. Of these violent crimes, 14,612 were murders. This means that New York state alone was responsible for about 19 percent of murders in the country last year. Out of the 751,131 aggravated assaults reported in 2011, 45,568 occurred in New York State alone, which means New York state is accountable for 16 percent.
"Students usually feel pretty safe in Oswego," Burke said. "I tell parents that the presence of University Police is definitely felt on campus."
A campus-wide email was sent to Oswego students regarding an assault on campus early Sunday morning. A male student was returning to his dorm on West Campus when a group of five males approached him in front of Mahar Hall around 3 a.m. The victim reported that the group approached him "aggressively" and they exchanged a few words. The victim was then hit in the face and knocked out. He was sent to Oswego Hospital for an evaluation and then released. University Police have not said whether they discovered any possible leads regarding the attackers.
"Although I'm glad they sent us the email, it made me nervous," Delgado said. "I have a night class once a week and I walk right through the quad alone. It makes me even more nervous to walk alone at night because I am a girl."
"I feel safe at Oswego," Hanson said. "If I went to Brockport, it would honestly probably be a different story."
"I'll always worry about my son, it's a mother's intuition," Trait said. "My first thought when I heard about what happened was if Sean was okay. Questions about the murder came second."
Whittemore is due back in court on Dec. 18. He is currently being held in Monroe County Jail without bail, awaiting trial.