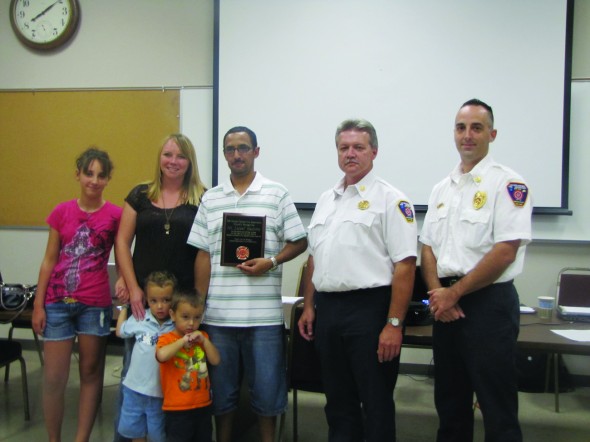 The Oswego State community was given a sobering reminder of the value of life on Nov. 9 when a construction worker who was working on a campus project suffered a fatal fall.
Lateef Haskins, 37, the foreman for the construction of the bridge between Park and Wilber Halls, fell from the roof of a connector between Park and Wilber Halls Friday morning, and was declared dead about an hour later at Oswego Hospital.
All construction on campus was stopped on Friday until Monday while safety procedures were reviewed. The workers who were present at the time of the accident have been given time off from the project.
"Given the seriousness of this accident, we feel it is worth taking a timeout to review not only this incident and project, but all the construction work going on at our college," president Deborah Stanley said in a prepared statement on Nov. 9.
Haskins was not simply another construction worker, but also a husband and a father of three and was well-liked by his coworkers.
"He was just a wonderful guy who loved his work," said Dan Olenych, an ironworker who had worked with Haskins in the past, although he was not present on the day of the accident. "What more can you say? He went to church, he loved his family. He was a beautiful person."
"I knew him for about a year, we worked together on a bunch of different jobs," said John Thomas, another of Haskins' coworkers. "We called him Tee, because his name was Lateef. He was a very smart man, very benevolent, [and] he really loved being a union ironworker."
Thomas described the union as a brotherhood where "he watches out for you, you watch out for him."
"I felt more confidence with him there," Thomas said. "This was the first fatality in Local 60 [union] since 1984."
Haskins was considered a local hero. In 2010, he helped to save four of his neighbors from a house fire, when he told his wife to call 911 before getting a ladder to save the family trapped on the top floor.
Haskins had been watching ESPN in his living room at the time when he heard his neighbor cry for help. Not only did he use his own ladder to save one of his neighbors, but also after the fire department arrived he borrowed another neighbor's ladder to help save the remaining family members.
Haskins was honored by the Moyer's Corner Fire Department for his heroism and bravery on Aug. 19, 2010 and recognized him as "being an outstanding citizen of our great town."
Haskins also opened his house to the public as a drop-off spot for donations to his neighbors while the family stayed in a hotel.
The incident that led to Haskins' death is still being investigated by the Occupational Safety & Health Administration as they review the circumstances of the accident.
According to the annual reports released by the Bureau of Labor Statistics, construction work can be a dangerous line of work, as 721 fatal injuries were reported in private construction in 2011, roughly 40 percent of all deaths in goods producing industries. Construction reports more fatal injuries by far than most of the other subcategories in the report, with the wide category of transportation and warehousing reporting 733 deaths. Of the reported construction deaths, approximately 35 percent were the result of slips, trips or falls.
"Ironworking is one of those top-10 dangerous jobs out there," Olenych said. "It's falls, caught-betweens and electrocution that are most common for us."
"This is high, dangerous work," Thomas said. "It's just one of those unfortunate ones."