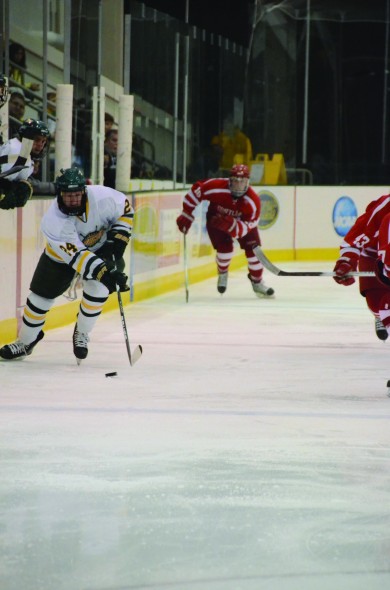 After Oswego State defeated Cortland State, 7-4, in their home opener, I had a colleague of mine ask me "if four goals was the most we have seen scored against the Lakers" over the past four seasons. Although the correct answer is five, seeing any more than one or two goals on the opponent's side of the box score is usually a rarity, especially at home. Goaltender Andrew Hare was pulled in the Cortland game for giving up two goals in six minutes, but has yet to allow more than one in each of the four games since. At 5-0-0 (4-0-0 SUNYAC), the Lakers are number one in the nation and flying high. Here are my observations heading into game six:
Spreading the Wealth. In the Lakers' 10-1 win at Geneseo on Nov. 3, the team accomplished an unheard of feat: 10 different players scoring a goal. Every Laker besides defenseman Taylor Farris and Hare registered a point on the night. In fact, in four of the five Laker wins, a unique combination of players have made up the goal totals, the 9-0 victory against Elmira on Oct. 27 as the one exception. A balanced offensive attack is a key to any successful hockey team.
Berra Necessities. With an immense amount of skill and huge numbers in the British Columbia Hockey League, it was just a matter of time for sophomore RJay Berra to net his first collegiate goal. He did so in the rout of Geneseo on Nov. 3, taking a pass from Chris Muise and impressively lifting the puck underneath the crossbar from a tight angle. Berra has found his niche on the Lakers' third line with seniors Muise and Tyler Leimbrock
Zach Attack. Senior Zach Josepher was brought in from division I Michigan State before last season with the reputation of being an offensive defenseman, but is really shining through in the early going of 2012-13. Josepher led Laker defenseman with 22 points last season, but his four goals through five games this year has already matched his '11-'12 output and it is just one shy of his NCAA career-high, which he set his freshman year at MSU. He has scored a goal in three straight games and is anchoring the Oswego State powerplay.
Powerful Powerplay. Speaking of the powerplay, it has been strength for the Lakers so far this season. Clipping at 39 percent, good for third in the country, Oswego State's powerplay has netted seven goals over the last two games. Although the powerplay was not sloppy last season (finishing ninth overall), for a team that was given multiple powerplay opportunities in the 2012 NCAA National Championship game and was unable to capitalize, one could be led to believe that a concerted effort was made.
Mr. 100. Luke Moodie won the race to 100 career points against teammate Paul Rodrigueswith a goal in the Lakers' 5-1 win over Morrisville on Nov. 9. It came easy for Moodie, as Mustang netminder Christopher Azzano strayed too far out of hit net, turning the puck over to Paul Rodrigues, who assisted Moodie's goal, giving Rodrigues his 99th point. Moodie and Rodrigues are tied for the team led with five goals, seven assist and twelve points. The twelve points are also good for tops in the country.
After running the table on the three-game road swing, the Lakers will now play five straight home contests, beginning Friday, Nov. 16th against Buffalo State. The Fredonia Blue Devils are in town on Saturday the 17th, and then whiteout weekend hits Oswego following Thanksgiving. To end the homestand, the Lakers will host a tough ECAC West opponent in Utica. There is not necessarily one "easy" game on the docket, but with a balanced scoring offense, a contributing defense, a top-notch powerplay and a goaltender on a mission, you could not ask for much better odds.