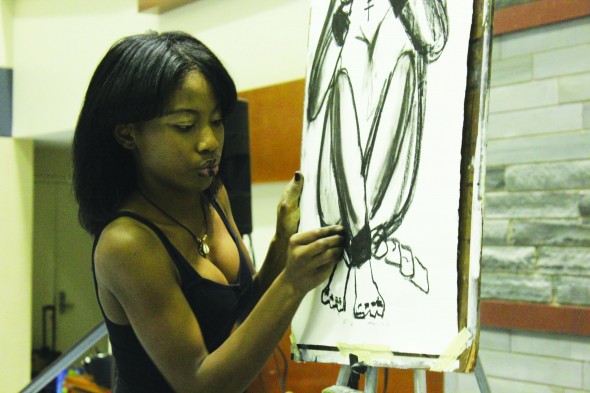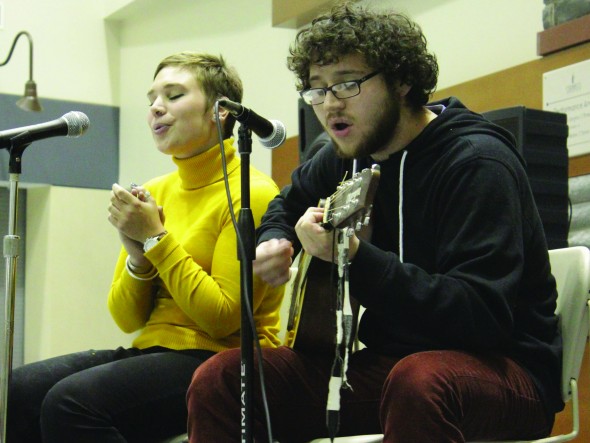 Steppers, singers, a belly dancer and a beat boxer were among the performances of last week's "Stand Up Talent Show." A collaboration of the National Association of Black School Educators, Omega Phi Beta Sorority Inc. and Student Association Programming Board the talent show was held Friday, Nov. 2 to raise awareness of the worldwide issue of child abuse.
President of NABSE, Ashley Freeze explains that they not only want to raise child abuse awareness but they want everyone to know that they too can throw a campus event or program on a cause they feel strongly about.
"We want everyone to know that child abuse is something that is happening every single day, right down the street at Oswego High School and that there is something that they can do about it," said Freeze as she help set up the food that was sold during intermission. "What we are doing is we are donating the money from the food that we are selling to Prevent Child Abuse New York. "
The charity was chosen for their efforts to help prevent and help those suffering of child abuse.
Freeze explained that it was NABSE's idea to have a talent show on the topic of child abuse and that it worked perfectly with the two organizations that joined in the cause. NABSE is devoted to the academic success of children, Omega Phi Beta Sorority, Inc.'s national philanthropy is domestic violence against women and SAPB helps organize events to benefit the campus community and students.
Each organization provided a representative to help host the event in what turned out to be a delightful mixture of many talents. At the end of the night, a panel of student judges awarded first and second place winners. First place won $100 and second place $50. A range of talent was presented but in the end, biology and art student, Mamee Hayfron won first place after winning over the crowd in a touching combination of dance and drawing.
Hayfron is famous on campus for her ability to dance and draw powerful images at the same time. Hayfron, who in 2010 also won the Alpha Phi Alpha Fraternity, Inc. Miss Black and Gold pageant with a similar performance, explained that she wanted to draw something that related back to the theme of the event. The result was a beautiful raw image of a young child in shackles begging for help.
"I was so nervous because they were a lot of great acts. But winning, I can buy some groceries!" said Hayfron.
Second place winners were the newly formed girl group called Kinetic Voices. Made up of Tierra Beckles, DeNecia George, Vernessa Defoe, Kiana St.Louis and Bilikis Adebayo. Kinetic Voices wooed students with their a cappella style of singing. Voices started when Louis and Adebayo heard the other females sing and immediately wanted to bring everyone together, Kiana St. Louis explains that, although this was only their second performance together, they understood the power of their voices.
"We just have this love for music and the arts. As a whole, when we get up there the art just sort of takes over," said Louis of her nerves when performing on stage.
The Stand Up talent show provided students with their first time to perform or to get involved artistically with the stage. This was the case with Marketing major, Hafiz Williams, who provided the sounds of the event.
"Every one liked my Dj'ing, I got a lot of compliments" said Williams who plans to continue as a DJ and whose next step is to find a DJ name.
Ashley Freeze expected everyone to enjoy themselves while learning facts and statistics of the extent of child abuse. A piece of paper with a statistics was placed in every chair of the Campus Center food court for students to read and take in. At the end of all the performances, students were brought back to the reality of the child abuse situation as they were asked to read out loud their facts and 'stand up' for abused youth.
Freeze is proud of the diverse talent found for the show and said that "They are doing this for a really good cause, and whether they are really good or suck they are doing it because of what the event is about."