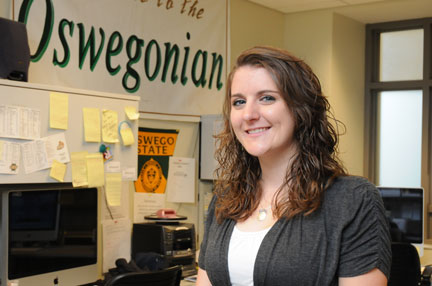 Ambition and a sense of creativity are vital to success after graduation, was the theme of a presentation given Monday by former Oswego State graduate Samantha Shelton.
Shelton, a member of the class of 2011, visited Oswego State as part of the Living Writers Series. Shelton is currently an editorial assistant at "FITNESS" magazine, a publication primarily focused on women's health and fitness. Over the course of her presentation, Shelton spoke about the magazine and her experience at Oswego State as a journalism and creative writing double major.
Shelton first discussed the mission statement of "FITNESS."
"We're very much about empowering women, and helping them make a transition into a healthier lifestyle," Shelton said.
She also mentioned some of the magazine's current goals, particularly within the realm of digital publication.
"Things are going digital," Shelton said. "If you don't have a strong digital platform, then you're in trouble."
Shelton said she decided to declare a journalism major out of a desire to write more "hard-hitting" stories. During her first semester at Oswego State, she took a creative writing class with Brad Korbesmeyer, which led to her declaring a double major in journalism and creative writing.
In addition to her studies, Shelton was a member of the Oswego State women's soccer team. She joined The Oswegonian during the second semester of her freshman year, after attending the first general interest meeting.
"By the end of that first meeting, I somehow became the sports editor," Shelton said.
Shelton continued to serve as Sports Editor until her junior year, when she became the Managing Editor. Shelton  went on to start the Oswego State version of "Her Campus," a publication devoted to women's writing exclusively on the Internet. She formed the Oswego State branch of Ed2010, which is a community for aspiring magazine writers looking for opportunities and internships.
Shelton's experience in the world of magazine writing began in the summer following her junior year, when she became a paid intern at "FITNESS" as a part of a program sponsored by the American Society of Magazine Editors. Upon graduating in May 2011, she became a freelancer for "FITNESS," and later became the editorial assistant to the editor-in-chief in January 2012.
Shelton cites her perseverance as a major factor in getting her current job.
"I learned how to never say no to anybody, because that's what gets you far," Shelton said.
According to Shelton, quality magazine writing is a combination of journalism and creative writing.
"It's all about putting a face to the story," Shelton said.
Shelton also regularly maintains a personal fitness blog, which she started as a part of an advanced creative nonfiction class she took while at Oswego State. She stressed the benefits of keeping a personal blog for those interested in pursuing a career in journalism.
"Don't necessarily write a blog about your own life first," Shelton said. "Find a subject matter that isn't about your life first."
She also encouraged students not to censor themselves when writing a personal blog.
"Give yourself permission to write about whatever the hell you want," Shelton said. "It has to be about something you're passionate about."
Social media, Shelton added, is equally important in the world of modern media.
"Twitter is such a personal platform," Shelton said. "You have to inject your personality into everything."
Shelton advised aspiring writers to maintain a strict schedule that allows for specific time to write.
"You should be writing every single day, especially if your career is in writing," Shelton said. "You have to treat it like an appointment, otherwise you won't get anything done."