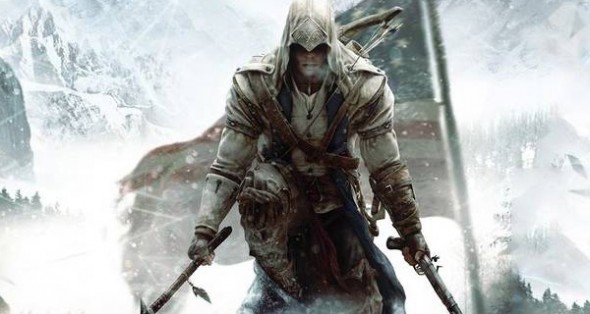 The "Assassin's Creed" series of games has taken players through locations around the globe such as, Israel, Italy and Istanbul in alternate versions of history filled with the struggles between the Assasins and the Templars. In the present, Abstergo, the modern face of the Templars, seeks to control the world and Desmond Miles and his team seeks to stop them and the looming threat of December 21, 2012. Desmond does this by reliving his ancestors' experiences throughout history.
In "Assasin's Creed III," elements come closer to home as half Native American, half British assassin, Connor, fights for personal revenge and freedom of the people around the time of the American Revolution. This is new territory for the series and the source material is a great fit with much content but there are some disappointing aspects as well.
Without spoiling things, "Assasin's Creed III" starts out slow with a mystery guest to expand the story and a quick recap of the events of the last few games. After the first few hours of many in the main story, players assume the role of Connor and his quest to free the people begins.
Historical figures like Ben Franklin, Sam Adams, George Washington and more from the time period all play a part and interact with Connor in Boston, New York and Philadelphia. Connor also travels through the Frontier and his Mohawk homeland and can even sail the eastern seaboard with his ship.
Besides playing out some famous events like the Battle at Bunker Hill and signing the Declaration of Independence, present day segments with Desmond make a return. The mix of old and new stories works well and always keeps players guessing as to how exactly things will turn out.
This time around, the combat has finally been fixed. Enemies will now attack together instead of waiting to be killed and each encounter is a challenge. Connor's heritage also plays a part, and players can move just as swiftly through trees as rooftops and can also hunt animals in the wild for profit. Other additions, like mobile hiding spots, using disguises, eavesdropping on people, and more add to the overall assassin experience. Another first for the series is a dynamic weather system that affects Connor's movement and contributes to the top-notch graphics, better than the previous entries.
There are, however, a few problems to note. Despite the expansive story and its surprises, it all feels like too much of the same. The new additions help somewhat but this third part in the main trilogy could have been so much more.
Content aside, there are several glitches that could have been fixed. From floating weapons and enemies trapped in barrels to having Connor himself getting stuck in a building while climbing and needing to be reset, a software update can't come soon enough. The assassin training system from "Brotherhood" returns but a new crafting and trading system feel a bit unnecessary.
Several multiplayer modes supplement the campaign mode. There are still the hide-and-go-seek feeling modes where players must determine AI from humans and kill the right targets. Co-op modes like "Wolf Pack" fit well where teams hunt for NPCs instead of humans. Players can choose from several character classes and upgrade their persona with different embellishments. Combined with all the extra activities the single player mode affords, like liberating Templar forts, debunking Daniel Boon's urban legends, searching for treasure and naval warfare, there is a lot of content packed into "Assasin's Creed III."
For new players, it's probably best to catch up on the story with the other games first. Returning fans will find a nice continuation of the series if they can look past its few flaws. Despite the timeframe, this is more of an evolution than a revolution.