As part of our Election Night 2012: Live from Oswego coverage, the Oswegonian, along with WTOP, will be live covering 24th Congressional District candidate Dan Maffei's results party. We also have reporters attending the results party for Republican incumbent Ann Marie Buerkle. This blog will provide live coverage of the hotly contested race for the Congressional seat.
-The latest poll by the Siena Research Institute showed Maffei and Buerkle to be in a dead-heat, each having the support of 44 percent of the likely-voters polled. Green Party candidate Ursula Rozum received the support of eight percent of likely-voters, while four percent said that they were still undecided.
-Past Oswegonian coverage of the race has included a summary of a townhall-style debate between Buerkle and Rozum, coverage of Maffei's visit to Oswego State and a look at the affect of Rozum's presence in the election.
12:30:
-Polls opened in Oswego County this morning and will continue to be open until 9 p.m. Due to the changes in districting, some polling places in Oswego County have changed. The Oswego County Board of Elections website can provide further information on polling locations.
-Members of the Oswego State media team will be live tweeting election coverage under the hash tag #OzLive2012.
-Television coverage will begin at 8 p.m. and can be watched on campus on channel 10.1, channel 96 locally, heard on WNYO 88.9 or streamed on either the WTOP or WNYO websites.
-More coverage will be posted throughout the day. In the meantime, be sure to get out and vote.
5:30:
[youtube=http://www.youtube.com/watch?v=zIYiQ5jUNoc&feature=youtu.be]
7:30: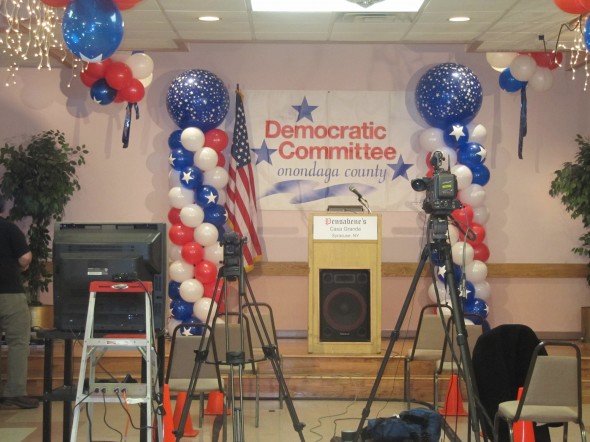 We have arrived on scene at the Democratic headquarters, where Dan Maffei will be hosting his results party. The room is currently mostly media and campaign workers for Maffei.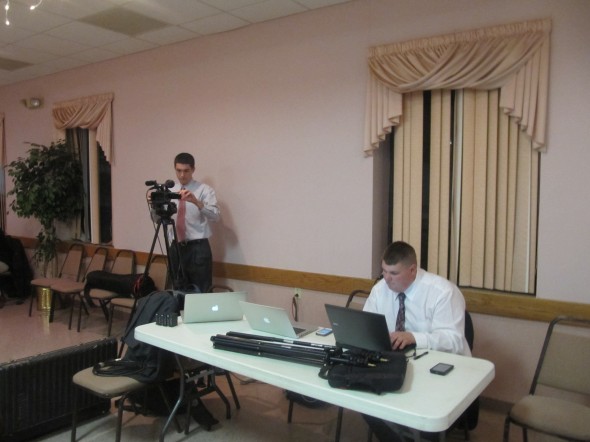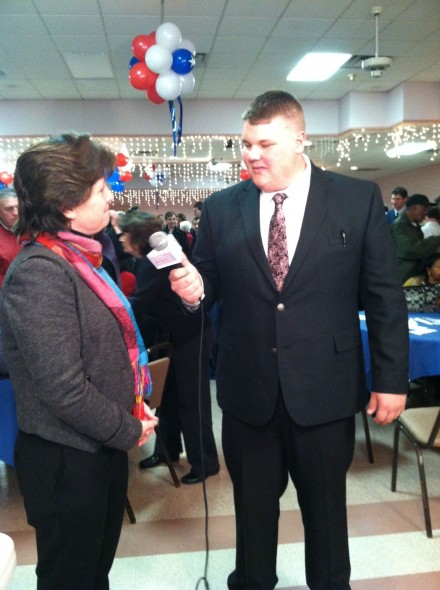 10:45: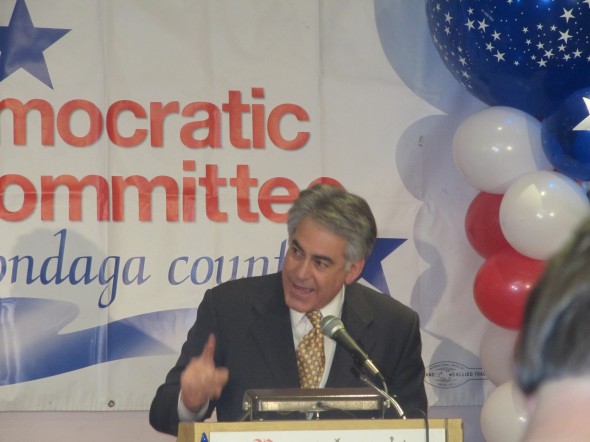 Newly appointed New York State assemblymen Al Stirpe is currently giving his acceptance speech for the 127th district. Entered the room to applause. Gave thanks to organized labor, Democratic committee and fellow democratic assemblymen William Magnarelli of the 120th district. Magnarelli is in attendance, having ran unopposed. Stirpe won a heated race against Republican incumbent Don Miller for the Assembly district, which covers Clay, Cicero, Manlius, Pompey, Fabius and Tully.
"This is a sign to other side that you can't win by making stuff up," Shirpe said, regarding the accusations made by Miller throughout the campaign.
11:00:
It is announced by most major networks that President Obama has won Ohio, all but assuring the presidency. The crowd erupts after the announcement, with chants of "Yes we can" echoing through the ballroom.
"We're going for a clean sweep," a woman runs toward our table and announces, referring to the Assembly and Congressional races.
"We're gonna be the dominate party in this county folks," English announces over the microphone.
11:30: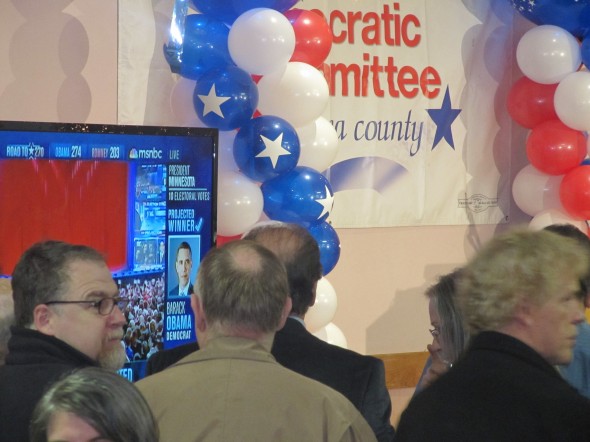 Maffei has not yet arrived to the party. With 79 percent of districts reporting, he currently holds a lead. Maffei currently holds 51 percent of the vote to Buerkle's 40. Rozum has conceded with eight percent of the vote.
English has gone on stage to announce that, while he can announce "no official numbers," Maffei is "looking good."
12:05:
Maffei has arrived to give a speech before his supporters at the party.
"At this point I am confident that, when all the votes are counted, I will be your next congressman" Maffei said, followed by applause from the crowd. Maffei gave a brief speech to the crowd before mingling among the supporters and media.
Here is video of Maffei's speech:
[youtube=http://www.youtube.com/watch?v=tLyHS0cdOPk&feature=youtu.be]