Tyler Hall opened their first art exhibition of the semester, Oswego Art Alums, on Sept. 7. The impressive collection was a showing of the art of Oswego State alumni, such as Kelly Chilton, Bill DeMott and Paul Bartow. The unique collection included one piece each from around 20 artists, ranging from abstract paintings to mixed media and digital photography prints. Walking through the exhibition and reading the stories of the alumni success and how studying at Oswego had influenced their careers and their art was like a walk through time.
The range of artists and their experience was impressive, some were art professors and teachers, while others had careers that were completely unrelated to art and simply enjoyed creating in their free time. One piece that stood out in the collection was Tyrone Johnson-Nueland's "Storm Chaser," an abstract painting that layered swirls of color, drawing in the eye at every turn. The stunning collection was impeccably organized to highlight each artist on their own and every piece was given a chance to shine on its own.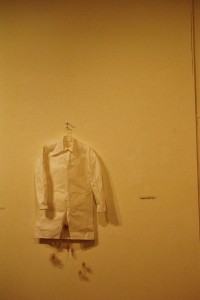 The alumni exhibition was shown in partnership with an exhibition of Canadian artist Hannah Claus, who was showing her collection "In/Tangible Presence." Claus was born and raised in Canada, but was greatly influence by her Native American heritage on her father's side, which was shown beautifully in her collection.
In Claus' work she utilizes materials such as graphite, fiber optics and seed beads. The variety in the collection is partly due to her wide range of materials, as well as the different ways she uses them. In "dialogue-complicite," one of the biggest pieces in the collection, Claus scatters beautifully smooth stones over the floor between hanging sheets of beeswax paper. However, in "skystrip," the largest piece, the same stones are used to weigh down a print of several different photos of clouds.
The different ways that Claus uses her materials is inspired by the versatility of her Native American ancestors and the many different ways they utilized the materials that they had available to them. The whole collection is a nod to Claus' heritage, but also explores relationships between people and the world in which they live. Memory, identity and the places and people that inhabit them drive her imagination to create a stunning array of everyday things that we perhaps take for granted.
The exhibition of both the alumni artists and Hannah Claus' "In/Tangible Presence" will be open for viewing until Oct. 6, and is free and open to the public.