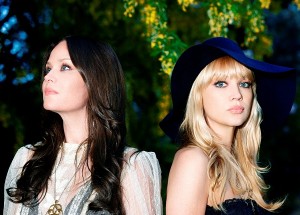 In a world of Katy Perry and Nicki Minaj it is difficult for artists that do not fit into the narrow world of mainstream music to gather much attention or catch on to wide audiences. Such is the case with sisters, Allison and Catherine Pierce of The Pierces, who recently released their fourth album, "You and I."
With a perfect combination of sultry, hippie harmonies and soft romantic ballads, The Pierces' latest album "You and I" stays true to their earlier work. Resembling greek goddesses in most of their music videos, The Pierces never fail to evoke a late summer, early-fall vibe, making a city girl wish to travel in a vintage convertible across the country, or plan a sweet revenge on a past relationship.
Produced by Coldplay bassist Guy Barryman, "You And I," presents a bold statement of music with organic sound. With songs like "It Will Not Be Forgotten" and "Kissing You Goodbye," the sisters first released their album in May 2011 in the U.K. and it was not until March that it was finally released in the U.S. In its debut, the album ranked No. 4 in the U.K. Billboard charts but failed to appear in the U.S. charts. While they have not enjoyed many sales, most critics agree that it is a great album. The Pierces are scheduled to support Coldplay on their worldwide tour until May.
"You and I" features a high and low of emotions with songs that speak to several sides of love. "Love You More" is the song that reflects on the size of love and "The Good Samaritan" on the dark secrets sometimes kept by lovers. Other appealing songs include "It Will Not Be Forgotten," "Drag You Down" and "Kissing You Goodbye." The reoccurring theme of the album is love in all its glory and demise. The Pierces must be praised for the originality and passion that is evident in all their songs and music videos.
With their voice, these two sisters journey through the land of love and share with us their experiences and wisdom. Let's hope that their small amount of success keeps The Pierces pushing harder so that the world does not lose the wonderful voices of these two sisters.