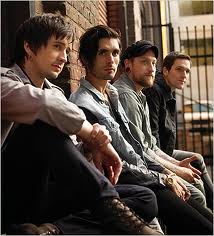 The All-American Rejects return from a short break with their new album "Kids in the Street." After the mediocre reception of their last record and an absence of releases The All-American Rejects return with a record that shows fans they are back to their old ways. We see the same catchy choruses that fans have grown fond of over the years but with a new found enthusiasm for the music that was lost in the past. The album successfully invokes feelings of innocence and memories of earlier days making the title very fitting. The band manages to succeed in this without resorting to overly poppy songs but instead takes a guitar-heavy rock approach and still holds true to the style they made for themselves.
The album begins on a high note of upbeat songs about love that keeps you interested such as single "Beekeeper's Daughter," while also setting the mood for the rest of the album. With a closer look these songs that pull you in aren't as happy as they seem to be but this is captured by the band's ability to tell a story of real emotions and put the perfect sound with it. The song "Heartbeat Slowing Down" is a good example of a type of sound that is so strange for The All-American Rejects that it can't be denied.
The middle of this album shows the band's ability to use a new sound to accomplish their goals and continues to tell the story when the beginning of the record started. The song that shows this best would be the title track "Kids in the Street" which at first listen immediately becomes a track that cannot be ignored. This song's upbeat rock infused pop-style leads perfectly into the end of the album. The last couple of tracks take a switch to strong string-heavy compositions that make this portion of the album feel like the bands last breath on the album. The second half of the album aggressively declares this album as more than just another All-American Rejects album but as one of the best albums of the year so far. The album ends on a two-part finale, including one of the album's highlights; the string-heavy ballad "Affection" and the slow-paced acoustic part two to the finale "I for You." These two songs coupled with each other take a listener on a roller coaster ride of emotional highs to lows that end the album perfectly.
The All-American Rejects put forth their best effort on this album and the result is an album with a strong sense of direction that surpasses expectations based on previous releases.