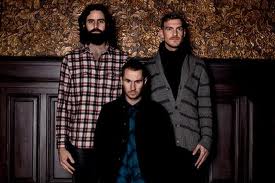 Miike Snow's self-titled 2009 debut album felt like it came out of nowhere. Their unique piano-driven, and often genre-defying electropop began cropping up everywhere, from "Grand Theft Auto" to "Jersey Shore." Their success should not really come as a surprise though, as Swedish founding members Christian Karlsson and Pontus Winnberg have been writing and producing songs for Madonna, Kylie Minogue and Jennifer Lopez for years under the name Bloodshy & Avant. They most notably won a Grammy for their work on Britney Spears' "Toxic." Their debut featured some fine-crafted, undeniably catchy alternative-pop tunes.
On their sophomore effort, "Happy to You," it feels like Miike Snow is more focused and collected, expanding on their sound while keeping it fresh. With its bouncy, trippy synths and upbeat demeanor, "Enter the Joker's Lair" sounds like it is setting the atmosphere for the album. "The Wave" keeps the bright melodies going, with some fine crooning from vocalist Andrew Wyatt. Slow burners like "God Help This Divorce" and "Black Tin Box," frequently shift the mood of the album. Despite what the album title suggests, Miike Snow's music has always had a strong tinge of moodiness alongside the cheery hooks.
The trio is undoubtedly at their best when they find a proper balance between sing-along dance hooks and melancholy piano chords and lyrics. Songs like "Paddling Out" and "Pretender" embody this now signature style, and are most likely to please fans of their first album. Those looking for instantly accessible, danceable jams from that album, like "Animal" and "Song For No One," may be disappointed. On first listen, there are no real standout singles on "Happy to You." The marching drums of "Bavarian #1 (Say You Will)" or the offbeat eccentricity of "Vase" may sound odd to some at first, but they are guaranteed to creep their way into most heads after a second or third listen.
In that sense, "Happy to You" is a much more rewarding listen than their self-titled album was. Where Miike Snow's previous effort sounded a bit schizophrenic at times, the rapid mood shifts have become a charming strength on "Happy to You." Where they sounded like an experiment on their first album, they now feel like a complete collective. Where the trio still lacks in strong lyrical content, they make up for with superb production, songs that demand replay and perhaps most importantly a strong sense of fun. They have successfully branded their own unique style of electropop, which "Happy to You" comfortably builds on.