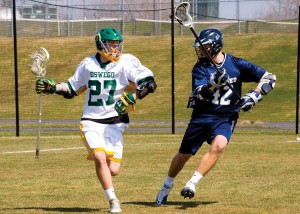 Coming off a disappointing 5-10 season in 2011, which included zero conference wins, the Oswego State men's lacrosse team has turned its sights to what could be a positive 2012 campaign.
"Last year was an up and down year," second-year head coach Ryan Martin said. "I thought we made some progress. We came together as a team. We're really excited about this 2012 season."
The Lakers will rely on many new faces this season, as the team has 18 freshmen as opposed to five seniors.
"It's going to be huge that our freshmen don't play like freshmen," Martin said. "We're certainly going to have a lot of them playing. We're going to need them."
Martin also said the Lakers are going to have to rely on veteran leadership from the five seniors, beginning with the captains, defenseman Eric Miccio and goalie Ian O'Brien.
Last season, Miccio started 13 games and O'Brien started all 15 while recording a 10.46 goals against average per game.
"I need to be the best leader possible," O'Brien said. "If the team's down, [I have to] bring them up, make sure everyone's on the same page every game and keep looking forward."
"[Miccio's and O'Brien's] job [as captains] is even bigger this year, and they've done a great job with that," Martin said.
Also returning for Oswego State this season are last year's top three scorers, senior midfielder Britt Leone (17 goals), sophomore attacker Chris Porten (16) and junior attacker Mark Briggs (15).
"We have a completely new attitude," Porten said. "I can tell with our coach and our assistant coaches and everybody that came up as a freshman. We're pumped going into the season."
With all of the new players joining the team this upcoming season, building team chemistry and communication will be one of the key goals for the Lakers.
"I think our chemistry is pretty good right now, but it can always get better," Martin said. "We're seeing that improve with the communication at the defensive end and with our midfielders."
"We've been doing a lot of bonding, and hopefully it relates to the season," Porten said.
Despite last season's poor record, the Lakers believe they have made strides toward improvement and are capable of having a good season.
"We feel like we've gotten better in the past year," Martin said. "The guys have been working hard. We've seen that improvement in our overall depth and in our athleticism. So far the guys have done a great job of being very coachable and buying into what we're trying to accomplish together."
"I think we can do big things, honestly," O'Brien said. "We have a lot of talent and I think we're going to do really well."
The team believes it has improved so much, in fact, that the Lakers believe they can make a run into the SUNYAC tournament.
"We'll always have the team goal of winning the SUNYACs," Porten said. "We have to, first off, take it game by game. Hopefully by the end of the season we'll have a good enough record to make it to the SUNYACs."
"I think that we are very capable of making the SUNYAC tournament," Martin said. "That's our goal, that's what we're concerned with."
The Lakers begin their season tomorrow at Morrisville at 11:30 a.m. Oswego State will remain on the road for three more games until its first home game against Utica March 21. The Lakers will open up conference play March 30 with a home game against The College at Brockport.
"I think there's a lot more caring and want to win this year," senior goalie Ian O'Brien said. "We're putting old seasons behind us and looking to a new era of Oswego lacrosse."